Darlington Pet Shops and Services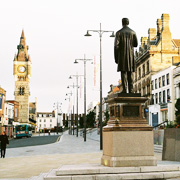 As a medium sized town in the North East of England in County Durham, Darlington has its fair share of pet businesses – pet shops, breeders, trainers and boarding establishments as well as pet grooming parlours and pet societies.
Several vets are well established in Darlington including Grange Vets in Victoria Road. They are the experts in small animal care and can treat a wide range of ilnesses and conditions. Other vets can look after larger animals such as horses and ponies.
Whether customers are looking for reptiles, fish, cats, dogs or small animals like hamsters or rabbits, any animal can be purchased in one of Darlington's pet shops – Coast to Coast Exotics and Cockerton Pets are just two examples out of many more. Although operating online only, Dogzdinner is based in Darlington from where they sell a huge range of doggie accessories. Many of these are unusual and innovative products as well as being practical and useful.
POPULAR BUSINESSES
6 Railway Terrace, Hurworth Place, Darlington, County Durham, DL2 2DD
07513438361
16, Greenmount Road, Darlington, County Durham, DL3 8EP
01325 240560
9 Northumberland Street, Darlington, DL3 7HJ
01325 787374
Easson road, Darlington, County Durham, DL3 6BA
07944 089392
OTHER BUSINESSES
Coast to Coast Exotics

124 North Road, Darlington, County Durham, DL1 2EJ
01325 283756
Cockerton Pets

30 Cockerton Green, Darlington, County Durham, DL3 9EU
01325 488944
Grange Vets

Victoria Road, Darlington, County Durham, DL1 5SJ
01325 521216
Skerndale Dog Training Club

12 Regal Drive, Darlington, County Durham, DL1 3EX
01325 358726