Stockton-on-Tees Pet Shops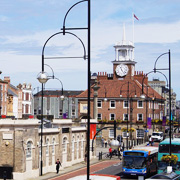 As a large market town in County Durham, Stockton-on-Tees has modernised its retail areas with the Castlegate and Wellington Square shopping centres. Pet owners have a great selection of Stockton-on-Tees vets, aquatic centres, grooming parlours, pet minders and exotic pet shops to choose from. Norton Aquatics & Pets plus Seymour Aquatics both offer their customers a terrific collection of live fish, plants, tanks and accessories, whilst Feedall on Preston Farm Industrial Estate can supply almost every make of pet food there is.
Grange Veterinary Surgery in Norton Road is just one of many Stockton-on-Tees vets. Some specialise in treating small animals, whilst others have larger farm animal practices as well. Ingleby Bunny Boarding looks after rabbits and guinea pigs for weekend or holiday breaks, whilst Cleveland Canine's Creche is happy to look after any breed of dog. If you love exotic pets, try Bugs 'N' Stuff in the Ramsgate area for a great choice.
POPULAR BUSINESSES
6 Owls Grove, Stockton-on-Tees, County Durham, TS17 5HH
01642 308901
OTHER BUSINESSES
Bugs 'N' Stuff

5 Ramsgate, Stockton-on-Tees, County Durham, TS18 1BS
01642 616823
Cleveland Canine's Creche

Unit5, Clayton Court, Bowesfield Crescent, Stockton-on-Tees, County Durham, TS18 3QX
01642 670404
Feedall

4 Douglas Close, Preston Farm Industrial Estate, Stockton-on-Tees, County Durham, TS18 3SB
01642 606255
Grange Veterinary Surgery

388 Norton Road, Stockton-on-Tees, County Durham, TS20 2QL
01642 360307
Norton Aquatics & Pets

400 Norton Road, Stockton-on-Tees, County Durham, TS20 2QL
01642 551604
Seymour Aquatics

373a Thornaby Road, Stockton-on-Tees, County Durham, TS17 8QW
01642 613500
Sunningdale Pets

Unit 17, Sunningdale Drive, Stockton-on-Tees, County Durham, TS16 9JP
01642 786000