Jaws Claws & Beaks
No customer reviews yet. Be the first.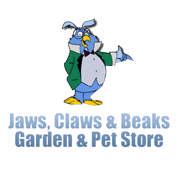 Address
Unit 14, Newton Industrial Estate, 92 Bordesley Green , Bordesley Green, Birmingham, West Midlands, B9 4TS
Telephone
0121 773 8877
Contact
Send an email to Jaws Claws & Beaks now >>
About
Located in the Bordesley Green area of Birmingham's Inner City, Jaws, Claws and Beaks is a leading supplier of animal feed, live-stock and all types of accessories. These include bedding, supplements and feed for aviary birds, parrots, pigeons, small animals and poultry. On display are a large selection of aviary birds, baby budgies, canaries, hand reared parrots, parakeets and all their requirements.
Jaws, Claws and Beaks sells packs of budget seeds as well as high quality branded seeds, and for poultry there is a large selection of different mixes. Ingredients include wheat & maize or another mix with sunflower seeds. The company also sells poultry grit thatís suitable for producing quality eggs as well as aiding digestion. Also in stock are layers and growers pellets, supplements and medications such as worming tablets. As an added feature for owners of exotic pets, they also sell a variety of live food.
This Birmingham pet shop buys and sells pigeons such as tumblers, tipplers and racing pigeons. Show breeds include lahores, pouters, Iranian High Fliers & Indian Pakistani High Fliers. Other breeds not mentioned can also be obtained. Well known brands of pet food include Beyer corn, Gem corn, BJF Feeds, Bucktons products and Versele Laga pigeon and bird seeds. They also sell Natural pigeon corn, Countrywide pigeon mixes and bird seeds, plus Vanrobeays pigeon seeds.
Find Jaws Claws & Beaks on these pages:

Location: Birmingham
Categories: Birds