Posh Pooches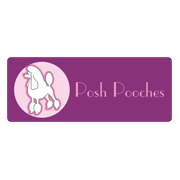 Address
84 Toll End Road, Tipton, West Midlands, DY4 0EU
Telephone
07989 793 761
Contact
Send an email to Posh Pooches now >>
About
At Posh Pooches in Tipton, West Midlands, all pooches are cared for with unbeatable standards. Each groom is tailored to the dog's individual needs - such as coat condition, skin condition and age of the dog. All grooms are performed on a one-to-one basis, so that each dog has the groomers' full attention at all times.
The bespoke grooming salon is set in a unique home environment. The atmosphere is relaxed and friendly so that your pooch can feel completely at home. All grooming shampoos are completely natural, benefiting from natural healing and soothing ingredients. Posh Pooches is the only award-winning dog grooming salon in Tipton.
Posh Pooches has a state of the art Hydrobath. This bathing method is recommended by many vets as the special massaging technique encourages fresh new skin and coat growth. It is also ideal for old dogs or dogs with skin conditions, as it massages deep tissues while cleansing the dog's coat.
Find Posh Pooches on these pages:

Location: Tipton
Categories: Grooming pet shops