Berkshire Pet Professionals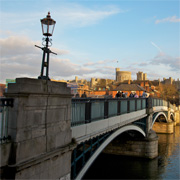 Narrow your results: browse for in Berkshire towns:
Maidenhead, Newbury, Reading, Slough.
Pet Shop UK is a free directory that any UK-based shop is entitled to join. This is the page on our website that details all the Berkshire pet businesses that we have listed.
Anyone with a pet business located in the United Kingdom is welcome to a listing within our directory. Read more about the benefits of signing up.Registering your Berkshire pet business will not take long.
POPULAR BUSINESSES
Wick House, 58a Lower Village Road, Sunninghill, Ascot, SL5 7AS
0783650288
PO Box 3380, Maidenhead, Berkshire, SL6 3WT
01628 822243
74 Knolton Way, Slough, Berkshire, SL2 5TL
01753 522525
Farnham Royal Garden Centre, Crown Lane, Farnham Royal, Slough, Berkshire, SL1 6AG
01753 648745
OTHER BUSINESSES
Apple's Paw Dog & Cat Groomimg

218 Horton Road, Slough, Berkshire, SL3 9HL
01753 549275
Castle Vets Pet Healthcare Centre

1 Tilehurst Road, Reading, Berkshire, RG1 7TW
0118 907 7772
Coach House Vets

Burlyns, Newbury, Berkshire, RG20 0NU
01635 254544
Collars & Tags

110 All Saints Avenue, Maidenhead, Berkshire, SL6 6LZ
01628 778955
Dapper-Dog Walk

Cornerways, 33 Lawn Close, Slough, Berkshire, SL3 9JZ
07425 886689
Family Friends Veterinary Centre

19 Elmshott Lane, Slough, Berkshire, SL1 5QS
01628 600586
Freedom Pet Care

15 Redriff Close, Maidenhead, Berkshire, SL6 4DJ
07966 587280
Furry Friends Vets

2 The Colonnade, Overdown Road, Reading, Berkshire, RG31 6PR
0118 907 7336
Garden Room Dog Grooming

4 Victoria Mews, Parkside Road, Reading, Berkshire, RG30 2BT
07890 176743
GKG Vets

43 St. Johns Road, Newbury, Berkshire, RG14 7PS
01635 40565
Joe's Folly Boarding Kennels

Amerden Close, Maidenhead, Berkshire, SL6 0EF
01628 623109
Kelperland Veterinary Centre

Ledger Farm, Forest Green Road, Maidenhead, Berkshire, SL6 2NR
01628 624935
Mutts 'N' Moggies Motel

Stoke Road, Slough, Berkshire, SL2 4NL
01753 303174
My Paws

22 Lynmouth Road, Reading, Berkshire, RG1 8DD
07798 608679
Pet Arcade

298 Trelawney lane, Langley, Slough, Berkshire, SL3 7UB
01753 586962
Pet Care

20 Cannon Court Road, Maidenhead, Berkshire, SL6 7QN
01628 628629
Pet Fayre

Shop 9, Maiden Lane Centre, Reading, Berkshire, RG6 3HD
0118 926 6512
Pet Trade Livestock

Wilco Poultry Farm, Tidmarsh lane, Reading, Berkshire, RG8 8HA
0118 984 2452
Pets & Plants

2 Armour Road, Reading, Berkshire, RG31 6HT
0118 942 8155
Tadley Pet Supplies

5 Monument Close, Essex Street, Newbury, Berkshire, RG14 6QW
0118 981 1971
Thames Valley Pet Food Supplies

74 Eastfield Road, Slough, Berkshire, SL1 7PF
01628 602252
The Groom Room

121 London Road, Newbury, Berkshire, RG14 2BX
0845 600 8997
The Grooming Studio

55 Cadwell Drive, Maidenhead, Berkshire, SL6 0LL
01628 626453
Tropical Fish & Tanks

55 Essex Avenue, Slough, Berkshire, SL2 1DP
01753 578901
Willowfield Cattery

Willowfield, Newbury, Berkshire, RG20 4HS
01635 268479
Woodley Pets

152 Crockhamwell Road, Reading, Berkshire, RG5 3JH
0118 907 5424
Woof Woof Meow

5 Lonsdale Close, Maidenhead, Berkshire, SL6 8RX
01628 777630
Your Pets

5 Monument Close, Newbury, Berkshire, RG14 6QW
01635 550660