Maidenhead Pet Shops and Services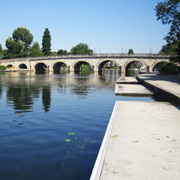 Lying on the banks of the River Thames in Berkshire, Maidenhead is a large town with an interesting variety of ancient buildings and modern shopping facilities. Maidenhead pet shops and pet services are located all over the area. These include vets, pet sitting services, grooming parlours, kennels and catteries as well as general pet shops. A good example of these is Pet Care in Cannon Court Road; they sell an extraordinary selection of pet food, bowls, leads, collars, baskets and cages.
Kelperland Veterinary Centre is just one of many Maidenhead vets, and The Grooming Studio in Cadwell Drive is one of several businesses that can clip, cut and wash your favourite pooch. If you want to join a pet society, need pet transport or just require someone to walk your dog during the day, Maidenhead has plenty of pet professionals to help you out.
POPULAR BUSINESSES
Wick House, 58a Lower Village Road, Sunninghill, Ascot, SL5 7AS
0783650288
PO Box 3380, Maidenhead, Berkshire, SL6 3WT
01628 822243
OTHER BUSINESSES
Collars & Tags

110 All Saints Avenue, Maidenhead, Berkshire, SL6 6LZ
01628 778955
Freedom Pet Care

15 Redriff Close, Maidenhead, Berkshire, SL6 4DJ
07966 587280
Joe's Folly Boarding Kennels

Amerden Close, Maidenhead, Berkshire, SL6 0EF
01628 623109
Kelperland Veterinary Centre

Ledger Farm, Forest Green Road, Maidenhead, Berkshire, SL6 2NR
01628 624935
Pet Care

20 Cannon Court Road, Maidenhead, Berkshire, SL6 7QN
01628 628629
The Grooming Studio

55 Cadwell Drive, Maidenhead, Berkshire, SL6 0LL
01628 626453
Woof Woof Meow

5 Lonsdale Close, Maidenhead, Berkshire, SL6 8RX
01628 777630