Reading Pet Shops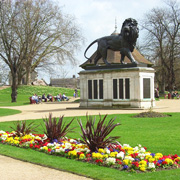 The massive and modern Oracle Shopping Centre in the middle of Readingís retail district is home to many of the nationís favourite department stores and fashion chains. No pet businesses in here, but you donít have to travel far to find a great choice of pet shops, breeders, vets or grooming parlours.
Garden Room Dog Grooming in Parkside Road is one such example. Scruffy dogs with matted coats come out looking like new after a full wash and brush up! If your favourite moggie is a bit off colour there are plenty of vets to choose from. Furry Friends Vets in Overdown Road can not only look after cats but also care for dogs, mice and rabbits with medical problems.
Pet Fayre in Maiden Lane Centre and Woodley Pets in Crockhamwell Road are just two of readings general pet stores. They both carry pet food from all the favourite makers as well as selling animal cages, dog leads, pet treats, toys and a choice of important accessories.
OTHER BUSINESSES
Castle Vets Pet Healthcare Centre

1 Tilehurst Road, Reading, Berkshire, RG1 7TW
0118 907 7772
Furry Friends Vets

2 The Colonnade, Overdown Road, Reading, Berkshire, RG31 6PR
0118 907 7336
Garden Room Dog Grooming

4 Victoria Mews, Parkside Road, Reading, Berkshire, RG30 2BT
07890 176743
My Paws

22 Lynmouth Road, Reading, Berkshire, RG1 8DD
07798 608679
Pet Fayre

Shop 9, Maiden Lane Centre, Reading, Berkshire, RG6 3HD
0118 926 6512
Pet Trade Livestock

Wilco Poultry Farm, Tidmarsh lane, Reading, Berkshire, RG8 8HA
0118 984 2452
Pets & Plants

2 Armour Road, Reading, Berkshire, RG31 6HT
0118 942 8155
Woodley Pets

152 Crockhamwell Road, Reading, Berkshire, RG5 3JH
0118 907 5424