Coventry Pet Shops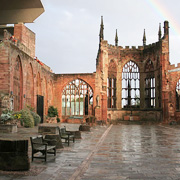 As a major town in the West Midlands, Coventry has several large shopping centres that serve the local population with almost any product they need. Pet owners arenít forgotten with a wide range of businesses that support them and their pets. Vets are an important link in the chain of pet animal welfare, and Broad Lane Vets is just one of many long established veterinary practice that care for the regions pet companions.
General pet shops in Coventry include Paws Pet Shop in Daventry Road and Russellís Pet Stores in Radford Road. Pet food, cages, hutches, collars and leads can all be purchased in these local pet retailers. Fans of more exotic pet species head for KBN Reptiles in City Arcade or Realm of Reptiles in Quinton Parade. They have a good choice of live animals as well as appropriate food, heating and lighting equipment plus a selection of cages.
FEATURED BUSINESSES

Catering to the individual needs of dog and owner.
Read more about Joyful Paws >>
POPULAR BUSINESSES
Old Church Road, Coventry, CV6 7BZ
07966535854
4 Meeting House Lane, Coventry, West Midlands, CV7 7FX
07515 703290
116 Tonbridge Road, Coventry, West Midlands, CV3 4AY
07858 328888
OTHER BUSINESSES
Broad Lane Vets

255 Broad Lane, Coventry, West Midlands, CV5 7AQ
024 7601 6910
Corley Rocks Cattery

Rock Cottage, Rock Lane, Coventry, West Midlands, CV7 8BD
01676 542225
KBN Reptiles

21 City Arcade, Coventry, West Midlands, CV1 3HX
024 7623 1166
Muttleys Mobile Canine Beauticians

82 Maidavale Crescent, Coventry, West Midlands, CV3 6GA
024 7669 7634
Paws Pet Shop

203 Daventry Road, Coventry, West Midlands, CV3 5HF
024 7650 6408
Realm of Reptiles

7 Quinton Parade, Coventry, West Midlands, CV3 5HW
024 7650 4727
Russell's Pet Stores

111-113 Radford Road, Coventry, West Midlands, CV6 3BQ
024 7659 7025
Wag-n-Walk

27 Delius Street, Coventry, West Midlands, CV4 9PF
07580 755566