Woof's
(1 review)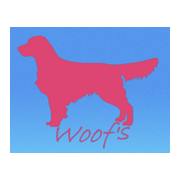 Address
116 Tonbridge Road, Coventry, West Midlands, CV3 4AY
Telephone
07858 328888
Contact
Send an email to Woof's now >>
About
Woof's is a patisserie for dogs in Coventry, West Midlands. They make healthy and delicious crunchy treats for discerning dogs. These tasty delights come in a wide variety of flavours, sizes and shapes. They are all hand-made and homemade, as well as being healthy and wholesome.
Woof's use only the finest ingredients normally only used in products for human consumption. The treats are all natural and do not contain artificial colours, preservatives, additives, salt or sugar - just a fine pinch of love. The simple packaging is pure and unassuming too, and reflects the simplicity of the ingredients used by the company to make healthy treats for beloved furry friends.
The treats in their attractive and simple packaging are also given as gifts to friends who have dogs. Woof's delivers a product that can be distinguished from competitor's treats by the focus on canine health and well-being issues.
Find Woof's on these pages:

Location: Coventry
Categories: Pet Food