West Lothian Pet Professionals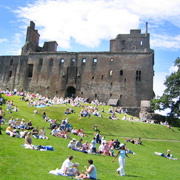 Whilst West Lothian is one of Scotlandís smallest counties, a significant proportion of the population own a pet. Cats and dogs are joined by a small army of rabbits, guinea pigs, mice and hamsters as well as exotic pets like snakes, spiders and retiles. All these creatures require many different West Lothian pet shops and pet professionals to keep these animals, birds and fish in tip top condition, as well as happy and contented.
If you just need some pet treats, pet food or a new dog lead, there are dozens of specialist pet shops situated all over the county. Kennels, catteries and even a pet crematorium are in West Lothian, plus a good selection of breeders and vets.
POPULAR BUSINESSES
145 Bridgend Park, Bathgate, West Lothian, EH48 2AD
07720 524698
132 West Main Street, Whitburn, West Lothian, EH47 0QR
01501 229080
OTHER BUSINESSES
Bathgate Pet & Field Sports Supplies

47 North Bridge Street, Bathgate, West Lothian, EH48 4PL
07533 297818
Broxburn Pet Supplies

23 Greendykes Road, Broxburn, West Lothian, EH52 5AF
01506 852325
Hilltop Boarding for Pets

Hilltop House, Ballencrieff, Bathgate Hills, Bathgate, West Lothian, EH48 4LD
01506 635401
iCare Pet Crem (Pet Crematorium)

Unit 13, Society Place, West Calder, West Lothian, EH55 8SA
01501 741626
Linlithgow Pet Shop

175 High Street, Linlithgow, West Lothian, EH49 7EN
01506 844096
Pets Friend Cat Sitting

48 Nicol Road, Broxburn, West Lothian, EH52 6JN
01506 855979
The Pet Store

9 South Street, Bo'Ness, West Lothian, EH51 0EA
01506 825841
Wags & Whiskers

29 Barkhill Road, Linlithgow, West Lothian, EH49 6GZ
01506 671703