Warwickshire Pet Professionals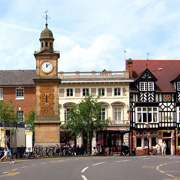 Narrow your results: browse for in Warwickshire towns:
Nuneaton, Rugby.
Located almost in the centre of the UK, Warwickshire has several large towns including Warwick (the capital), Royal Leamington Spa, Kenilworth, Rugby, Nuneaton and Stratford-upon-Avon. A wide assortment of pet businesses are located in all these areas. Acorn House Kennels and Cattery in Rugby is the perfect place to leave your pooches or moggies for those all-important holidays.
If you need a vet, The Bilton Veterinary Centre also in Rugby looks after all small pets like hamsters and gerbils as well as dogs and cats. Nuneaton has a great choice of pet shops like Posh Paws and Martins Pet Supplies. By trading online only, Medicines 4 Pets in Warwick keep their prices to a minimum. They also sell training aids and various brands of healthy pet food.
POPULAR BUSINESSES
All Oaks Lane, Brinklow, Rugby, Warwickshire, CV23 0NA
01788 832495
Norwood House, 249 Clifton Road, Rugby, Warwickshire, CV21 3QU
0845 653 0238
PO Box 5194 , Warwick, Warwickshire, CV34 9LL
01926 482800
13 Bull Street, Attleborough, Nuneaton, Warwickshire, CV11 4JX
024 7637 3988
OTHER BUSINESSES
Bilton Veterinary Centre

259 Bilton Road, Rugby, Warwickshire, CV22 7EQ
01788 221045
Bilton-Hilton Small Animal Hotel

51 Falstaff Drive, Rugby, Warwickshire, CV22 6LJ
01788 810761
Champion Pet Supplies

8 Horestone GRange Shopping Centre, Nuneaton, Warwickshire, CV11 6GU
024 7632 6877
Feathers & Fluff

27 Church Street, Rugby, Warwickshire, CV21 3PU
01788 878353
Gail's Pet Services

16 Stoneley Road, Nuneaton, Warwickshire, CV13 6JN
01455 213782
Kings Hill Equine & Pet Cremation Services

Stubble Hill Farm, Sibson Lane, Nuneaton, Warwickshire, CV13 6DD
01455 212021
Little Ark

35 Edyvean Close, Rugby, Warwickshire, CV22 6LD
07544 363496
Martins Pet Supplies

48 Queens Road, Nuneaton, Warwickshire, CV11 5JX
024 7638 1745
Posh Paws

18 Coleshill Road, Nuneaton, Warwickshire, CV10 0NY
024 7639 8903
Poultry & Bird Supplies

West Leyes, Rugby, Warwickshire, CV21 2AT
01788 568466
Rookery Kennels & Pet Cemetery

2 School Lane, Nuneaton, Warwickshire, CV10 9PA
024 7639 2504
Rugby Reptiles

296 Hillmorton Road, Rugby, Warwickshire, CV22 5BW
01788 543018
The Animal House Veterinary Surgery

3 Eastlands Court, St.Peters Road, Rugby, Warwickshire, CV21 3QP
01788 575300
Wiclif Pet Supplies

Unit 2, Kingswood Road, Nuneaton, Warwickshire, CV10 8QH
024 7638 1066
Your Vets

44 Church Road, Stockingford, Nuneaton, Warwickshire, CV10 8LD
024 7638 6855