Rugby Pet Professionals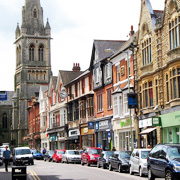 Like many UK towns, Rugby in Warwickshire has seen considerable expansion since the turn of the century, with new houses being built and town centre modernisation. The Clock Towers shopping centre houses branches of most of the chain stores, whilst the older town and surrounding areas have many independent pet professionals.
Vets include Bilton Veterinary Centre who specialise in caring for small animals, or Rugby Reptiles who can offer a terrific selection of exotic pets, cages and food.
K9-Nation is a Rugby based online specialist supplier of almost any requirements for dogs, with a great selection of dog food, treats, toys, beds, bowls and much more. Acorn House Kennels & Cattery in All Oaks Lane is one of the regions best pet boarding places. They are open all year round and can take pets for short or long periods. Bird lovers head for Poultry & Bird Supplies in West Leyes for all their aviary and bird food requirements.
POPULAR BUSINESSES
All Oaks Lane, Brinklow, Rugby, Warwickshire, CV23 0NA
01788 832495
Norwood House, 249 Clifton Road, Rugby, Warwickshire, CV21 3QU
0845 653 0238
OTHER BUSINESSES
Bilton Veterinary Centre

259 Bilton Road, Rugby, Warwickshire, CV22 7EQ
01788 221045
Bilton-Hilton Small Animal Hotel

51 Falstaff Drive, Rugby, Warwickshire, CV22 6LJ
01788 810761
Feathers & Fluff

27 Church Street, Rugby, Warwickshire, CV21 3PU
01788 878353
Little Ark

35 Edyvean Close, Rugby, Warwickshire, CV22 6LD
07544 363496
Poultry & Bird Supplies

West Leyes, Rugby, Warwickshire, CV21 2AT
01788 568466
Rugby Reptiles

296 Hillmorton Road, Rugby, Warwickshire, CV22 5BW
01788 543018
The Animal House Veterinary Surgery

3 Eastlands Court, St.Peters Road, Rugby, Warwickshire, CV21 3QP
01788 575300