Robinson's Pet Store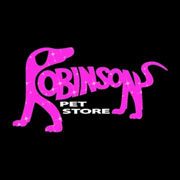 Address
187 Grainger Market, Newcastle, Tyne and Wear, NE1 5QW
Telephone
0191 2323717
About
Robinson's Pet Store based in Newcastle, offers a great selection of almost everything a pet owner could want or need for their favourite animals. Established around 1930, Robinson's has served the area well for anything to do with dogs, cats, small animals, birds, fish and reptiles as well as several interesting pet fashion items.
Whilst the ranges are too big to mention them all, if your dog needs a new lead, bed, feeding bowl, travel cage, food or healthcare treatments, Robinson's Pet Store is sure to be able to supply it. Their detailed website carries full descriptions of all products with images to accompany them. Cats are well looked after with ranges of collars, treats, scratch pads, food, litter or beds.
Small animals like rabbits, hamsters, guinea pigs or gerbils will all need hutches, cages, bedding and food, and Robinson's Pet Store can offer all their customers excellent selections at great value prices. With the increasing number of people wanting to feed wild birds in their gardens, Robinson's Pet Store has a selection of seeds, nuts and treats to keep all of the feathered friends happy and wanting to return for more every day.
Find Robinson's Pet Store on these pages:

Location: Newcastle
Categories: General Pet Shops