Newcastle Pet Shops and Pet Professionals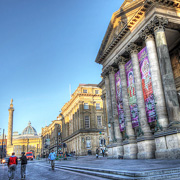 Newcastle in Tyne and Wear is home to a great selection of independent pet shops and stores selling almost any pet, animal or bird that anyone could ever want. Not only that, but many of these stores also sell extraordinary ranges of food, accessories and toys to keep all different kind of animal happy. This includes Parrot Megastore on Byker Bridge, and Ritz Pet Shop on Glebe Road.
Forpaws have a great reputation for dog grooming and Robinsons Pet Store has a great assortment of everything needed to keep dogs, cats hamsters and fish well fed and contented. As well as pet shops, Newcastle also provides a generous selection of complimentary animal services that pet owners may want to use. This includes vets, professional pet groomers and dog walkers. If you'd like a picture painted of your favourite pet animal, Pet Portraits are based in Newcastle and can undertake individual commissions.
POPULAR BUSINESSES
17 Grasmere Road, Whickham , Newcastle, Tyne and Wear, NE16 4EU
0191 488 5491
Standwell Farm Lodge, Harlow Hill, Newcastle, Tyne and Wear, NE15 0QD
07554 420655
187 Grainger Market, Newcastle, Tyne and Wear, NE1 5QW
0191 2323717
OTHER BUSINESSES
Animal Allsorts

65-67 Stephenson Road, High Heaton, Newcastle, Tyne and Wear, NE7 7SA
0191 2666290
Forpaws

15-17 Church Road, Gosforth, Newcastle, Tyne and Wear, NE3 1TX
0191 2867589
Jollye's Petfood Superstores

Unit 2, West Denton Retail Park, West Denton Way, Newcastle, Tyne and Wear, NE5 2NF
0191 2867589
Parrot Megastore

20-22 Byker Bridge, Byker, Newcastle, Tyne and Wear, NE6 1PE
0191 2657170
Petwise

496 Elswick Road, Newcastle, Tyne and Wear, NE4 8ED
0191 2260700
Ritz Pet Shop

17 Glebe Road, Newcastle, Tyne and Wear, NE12 7JQ
0191 2687115
The Pet Shop

189 Chillingham Road, Heaton, Newcastle, Tyne and Wear, NE6 5LH
0191 2400604