Surrey Pet Professionals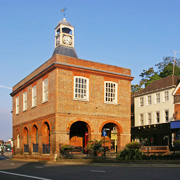 Narrow your results: browse for in Surrey towns:
Farnham.
Whatever kind of pet you own, there's a Surrey pet shop or pet professional to help you with pet food, accessories, baskets, cages, pet toys or even just advice. Big Dog World in Dorking specialises in selling everything to suit large dog breeds and can even arrange delivery anywhere in the UK. If you fancy something more exotic, Croydon Reptiles is just one of many local pet shops that can sell you snakes, reptiles or spiders as well as all the specialist food that they require.
There are plenty of Surrey vets such as Ewell Veterinary Centre to keep your animals or birds in tip top condition. If you fancy a break, let Pet Nannies in Leatherhead take care of your animal whilst you are away.
Epsom is home to The Little Pet Biscuit Company who create the most delicious and nutritious pet dog treats. When it's time for your doggie to have a wash and brush-up, the Weybridge Pet Centre & Grooming Parlour can offer a range of services to suit all budgets and requirements.
POPULAR BUSINESSES
Amity Pet Care, Linkfield Lane, Redhill, Surrey, RH1 1DP
07958 706832
89 Queens Road, Weybridge, Surrey, KT13 9UQ
01932 507000
Park View, Stane Street, Ockley, Dorking, Surrey, RH5 5TD
0845 6809 364
Howard Road, Bookham, Surrey, KT23 4PW
01372 458099
Enterprise House, Bridge Road, Camberley, Surrey, GU15 2QR
01276 63554
115 Godstone Road, Whyteleafe, Surrey, CR3 0EJ
07775 350676
Shepperton Marina, Felix Lane, Shepperton, Surrey, TW17 8NS
07900 698479
Derwent Close, Farnham, Surrey, GU9 0DD
07770 048425
35 College Road, Epsom, Surrey, KT17 4HQ
07973 213810
68A Bousley Rise, Ottershaw, Chertsey, Surrey, KT16 0LB
0800 1123349
Falkland Road, Dorking, Surrey, RH4 3AD
01306 740974
OTHER BUSINESSES
Amazing Animal care

11 badshot Lea Road, Farnham, Surrey, GU9 9JR
01252 326149
Armadillo Pets

Birchwood, Forest Glade, Farnham, Surrey, GU10 4DG
01252 792000
Berrylands

112 Alexandra Drive, Surbiton, Surrey, KT5 9AG
020 8339 9556
Bowenhurst Boarding Kennels & Catteries

Bowenhurst Cottage, Bowling Alley, Farnham, Surrey, GU10 5RW
01252 416940
Croydon Reptiles

228 Mitcham Road, Croydon, Surrey, CR0 3JJ
020 8684 3387
Ewell Veterinary Centre

4 Langton Avenue, Ewell, Epsom, Surrey, KT17 1LD
020 3005 2286
Full Dog Service

Wooda Cross, Bourne Grove, Farnham, Surrey, GU10 3QT
07769 946648
Merridays Dog & Pet Care Services

8 Bourne Grove, Farnham, Surrey, GU10 3QT
01252 710861
Pet Lodge

349 Commonside East, Mitcham, Surrey, CR4 1HF
020 3372 5999
Pet Nannies

52 Woodlands Road, Bookham, Leatherhead, Surrey, KT23 4HH
01372 456115
Pets Healing Clinic

75 Mount Park Avenue, South Croydon, Surrey, CR2 6DW
020 8660 0954
Poochie Pouches

227 Sandy Hill Road, Farnham, Surrey, GU9 0EE
07770 292928
Purrfect Pets

35 South Street, Epsom, Surrey, KT18 7PJ
01372 721966
Rob Harvey Specialist Feeds

Kookabura House, Gravel Hill Road, Holt Pond, Farnham, Surrey, GU10 4LG
01420 23986
Rowledge Cattery

Tremarga Cottage, Browns Walk, Farnham, Surrey, GU10 4BE
01252 793074
Shortheath Veterinary Surgery

69 Shortheath Road, Farnham, Surrey, GU9 8SF
01252 416703
The Dog Shop

The Clock House, 112 High Street, Cranleigh, Surrey, GU6 8AJ
01483 278041
Village Pets

55 Limpsfield Road, Sanderstead, South Croydon, Surrey, CR2 9LB
202 3479 3984
Weybridge Pet Centre & Grooming Parlour

27B Church Street, Weybridge, Surrey, KT13 8DG
01932 501251
Woofing Marvellous

16 Olivier Crescent, Dorking, Surrey, RH4 2DT
07763 774319