Farnham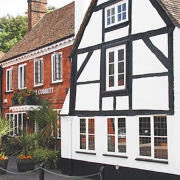 Located in the far west of Surrey, Farnham is one of the largest towns in the area. As a former market town, the distinctive and varied architecture lends itself to housing a variety of chain stores and independent shops.
Pet lovers in the area have a good choice of businesses that cater for a wide range of needs. If your dog wants to look at his best, a visit to the Full Dog Service in Wooda Cross will ensure that he comes out clean and smelling fresh.
Pet owners who are out all day appreciate the services listed by The Dog Butlers in Derwent Close. They can take your dog for a walk, feed any animals at home and even offer a dog waste removal service. For longer holiday periods, Bowenhurst Boarding Kennels & Catteries in Bowling Alley have a great reputation for excellent care of your favourite feline or doggie friends. At times of illness or injury, Shortheath Veterinary Surgery can take care of almost any type of small animal.
POPULAR BUSINESSES
Derwent Close, Farnham, Surrey, GU9 0DD
07770 048425
OTHER BUSINESSES
Amazing Animal care

11 badshot Lea Road, Farnham, Surrey, GU9 9JR
01252 326149
Armadillo Pets

Birchwood, Forest Glade, Farnham, Surrey, GU10 4DG
01252 792000
Bowenhurst Boarding Kennels & Catteries

Bowenhurst Cottage, Bowling Alley, Farnham, Surrey, GU10 5RW
01252 416940
Full Dog Service

Wooda Cross, Bourne Grove, Farnham, Surrey, GU10 3QT
07769 946648
Merridays Dog & Pet Care Services

8 Bourne Grove, Farnham, Surrey, GU10 3QT
01252 710861
Poochie Pouches

227 Sandy Hill Road, Farnham, Surrey, GU9 0EE
07770 292928
Rob Harvey Specialist Feeds

Kookabura House, Gravel Hill Road, Holt Pond, Farnham, Surrey, GU10 4LG
01420 23986
Rowledge Cattery

Tremarga Cottage, Browns Walk, Farnham, Surrey, GU10 4BE
01252 793074
Shortheath Veterinary Surgery

69 Shortheath Road, Farnham, Surrey, GU9 8SF
01252 416703