Wells Pet Professionals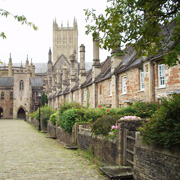 The beautifully compact city of Wells in Somerset has a thriving independent retail scene, but the town centre sadly cannot boast a pet shop. Instead, residents have to travel to Glastonbury or other nearby towns to hunt out pet supplies. This of course, doesn't mean that Wells is not an animal-friendly city. The Westfield Veterinary Centre on Westfield Road deals with both farm animals and small pets as does the Axe Valley Veterinary Practice in St.Cuthberts Street.

Aptly named Wag & Bones at Wookey Hole provides dog training and behaviour classes for all ages and breeds of dogs. Also worth bearing in mind is Bentleys Canine Beautician run by Mandy Payne. She offers professional dog sitting and grooming services for almost any size of canine friend. For longer breaks, dog owners may like to try the Mendip Dog Groomers that also operate an efficent kennel service.
POPULAR BUSINESSES
19 Bekynton Avenue, Wells, Somerset, BA5 3NF
01749 676891
OTHER BUSINESSES
Axe Valley Veterinary Practice

23 St.Cuthberts Street, Wells, Somerset, BA5 2AW
01749 670966
Mendip Dog Groomers

Caine Hill Cottage, The Batch, Wells, Somerset, BA5 3BD
01749 871001
Wags & Bones

Wookey Hole, Wells, Somerset, BA5 1AY
0845 643 9927
Westfield Veterinary Centre

Westfield Road, Wells, Somerset, BA5 2HS‎
01749 673 239