Shropshire Pet Professionals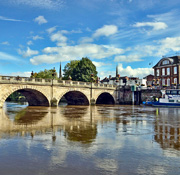 Narrow your results: browse for in Shropshire towns:
Telford.
Although Shropshire is a sparsely populated county for its size, the main towns of Shrewsbury, Telford, Dawley and Madeley all have a considerable number of businesses serving the pet lovers in the region. As its name suggests, Feathers and Fins is a Shropshire pet shop specialising in birds and fish, whilst Brook Farm Kennels is a popular boarding establishment for dogs to stay whilst their owners take a holiday break. If customers are looking for a pet food shop, then Oscar Pet Foods in Market Drayton sell a good variety of popular makes.
Another Shropshire pet shop that specialises in food is Just Pets in Whitchurch – they also have a state of the art dog grooming parlour and can even arrange for collection and delivery of the animals. However fit an animal may be, a requirement to visit the vet is bound to happen, and Telford's Haygate Veterinary Centre can look after most cats, dogs and small animals. Although trading online only, Plenty For Pets in Telford offer their UK customers a large selection of products and accessories for almost any small pet animal.
POPULAR BUSINESSES
Unit 8 Digital Court, Waymills Industrial Estate, Whitchurch, Shropshire, SY13 1TT
01948 664396
Unit 1, Watergate Arcade, Whitchurch, Shropshire, SY13 1DP
01948 665946
Weston Bungalow, Station Road, Weston Rhyn, Oswestry, Shropshire, SY10 7RS
01691 772034
15 Whimbrel Close, Leegomery, Telford, Shropshire, TF1 6WE
07545 822155
OTHER BUSINESSES
Ashcroft Veterinary Centre

77-79 Market Street, Telford, Shropshire, TF2 6EA
01952 270115
Blooming Tails

37 Cheshire Street, Market Drayton, Shropshire, TF9 1PH
01630 652413
Brook Farm Kennels

Aston Eyre, Bridgnorth, Shropshire, WV16 6XD
01746 714382
Canine Companions

Unit A7, Hortonwood 10, Telford, Shropshire, TF1 7ES
01952 605151
Clippers & Dippers

Unit 12, Trench Lock 3, Telford, Shropshire, TF1 5ST
01952 455102
Dawley Pet Supplies

17 High Street, Telford, Shropshire, TF4 2ET
01952 505327
Equine Brush & Shine

20 Highland Lea, Telford, Shropshire, TF4 3UA
07837 839216
Feathers and Fins

10 Wrekin Drive, Donnington, Telford, Shropshire, TF2 8DP
01952 604200
Haygate Veterinary Centre

20-21 Bridgnorth Road, Madeley, Telford, Shropshire, TF7 4JB
01952 586182
Oscar Pet Foods

8 Meadow Close, Market Drayton, Shropshire, TF9 3UG
01630 657553
Pawfection Dog Training

Kavacanne, Arleston Hill, Telford, Shropshire, TF1 2JY
07540 612456
Practically Pets

14 Sunningdale, Telford, Shropshire, TF1 5NS
07530 915875
Sarah's Pet Services

43 Woodrush Heath, Telford, Shropshire, TF3 5DJ
01952 276044
Shropshire Exotics

8/10 Salters Court, Lower Bar, Newport, Shropshire, TF10 7BE
01952 454046
The Pet Shop

4 Talbot Development, High Street, Wem, Shrewsbury, Shropshire, SY4 5AA
01939 234374
Walkies with Heather

The Barn, Ellesmere Road, Bronington, Whitchurch, Shropshire, SY13 3EU
07703 422350