WackyPets
No customer reviews yet. Be the first.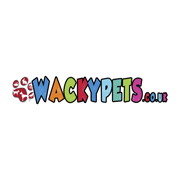 Address
45 Eastbourne Road, Middlesbrough, North Yorkshire, TS5 6QN
Telephone
01642 823083
Contact
Send an email to WackyPets now >>
About
Located in Middlesbrough, WackyPets is the online name for a specialist retailer that has been trading since 1975 under the name of Marion's Pet Shop & Dog Grooming Parlour.
Personal customers can be assured that they will be helped by very experienced staff. Online customers are presented with a terrific selection of products and accessories for dogs, cats, small pets, birds and tropical fish, all of which can be delivered anywhere in the UK.
The shop stocks a wide variety of pet products including dog crates, pet food, pet carriers, toys, activity centres and cages. Budgies, canaries and finches are always in stock, as well as a wide range of bird seeds and treats. In the small animal section of Marionís Pet Shop you will usually find guinea pigs, rabbits and hamsters for sale, and all the food, treats and cages you will need to take care of them.
In the grooming parlour your dog will be pampered in a heated room, kept separate from other dogs in his own pen, and groomed by well trained, caring staff. Prices are reasonable, and include a nail trim. A separate nail trimming service is also offered for cats and small animals such as rabbits and guinea pigs. Pet micro-chipping carried out by a qualified individual is also available.
Find WackyPets on these pages:

Location: Middlesbrough
Categories: General Pet Shops