Lancaster Pet Professionals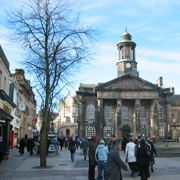 As the county town of Lancashire, Lancaster has been the commercial hub of the surrounding area since the year dot. The pedestrianised city centre is home to the Marketgate Shopping Centre and the St Nicholas Arcades - and you won't have to travel too far from here before you stumble across some terrific independent pet shops. Pearson's Aquatic Store in China Street and The Animal Zone in Ullswater Road are two such examples.
These Lancaster pet shops are complemented by a whole host of other animal services including dog groomers, bird breeders and vets. These include Lancaster Veterinary Centre in Bowerham Road who can look after most small pets including reptiles. Dimples Vets in Caton Road also specialises in small animals as well having a farm practise that cares for sheep, pigs, cows and horses.
POPULAR BUSINESSES
10 Lentworth House, Lancaster, Lancashire, LA1 4RQ
01524 847434
OTHER BUSINESSES
Bay Pets

15 Common Garden Street, Lancaster, Lancashire, LA1 1XD
01524 381022
Cosy Dogs

37 China Street, Lancaster, Lancashire, LA1 1EX
01524 235762
Dimples Vets

Ladies Walk, Caton Road, Lancaster, Lancashire, LA1 3NX
01995 916297
Lancaster Veterinary Centre

195 Bowerham Road, Lancaster, Lancashire, LA1 4HT
01524 840033
Paws 4 Style

Unit 5BC, Galgate Mill, Chapel Lane, Lancaster, LA2 0PR‎
07814 561 998
Pearson's Pet & Aquatic Store

China Street, Lancaster, Lancashire, LA1 1EX‎
01524 67391
The Animal Zone

122 Ullswater Road, Lancaster, LA1 3PX‎
01524 69825