Voda-Bone Pet Supplies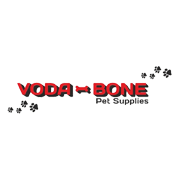 Address
1-2 Pentland Court, Saltire Centre, Glenrothes, KY6 2DA
Telephone
01592 561991
Contact
Send an email to Voda-Bone Pet Supplies now >>
About
Voda-Bone Pet Supplies is situated in Glenrothes in the heart of Fife. The business specialises in supplying natural pet food as well as a fantastic selection of accessories for almost any pet. Whether itís dry, wet or raw food, you will receive tailored nutritional advice from trained professionals whenever you need it.
They have a massive range of foods, treats, beds, cages, leads, collars, harnesses, coats, muzzles and pet toys. They also sell supplements, flea treatments, wormers, joint care, dental care, ear and care products plus whistles, clickers, bandanas, trouser suits, jumpers, rugs and vet bedding.
This shop has everything you need for all pet animals including dogs, cats, tropical fish, goldfish, pond fish and exotic animals like reptiles, snakes, bearded dragons and geckos. They also have products suitable for horses, parrots, budgies, cockatiels, canaries, finches, parakeets, poultry, chickens, rabbits, guinea pigs, hamsters, chinchillas, ferrets and wild birds.
A nail clipping service is available of which the proceeds are donated to a local charity. If a customer wants anything that isn't in stock, it can normally be ordered in within a few days. Open seven days a week, Voda-Bone Pet Supplies offers a free home delivery service throughout the Fife, Kinross and Falkirk areas of Scotland.
Find Voda-Bone Pet Supplies on these pages:

Location: Fife
Categories: Pet Food