Fife Pet Shops and Services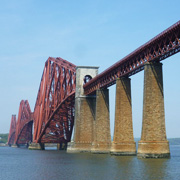 Narrow your results: browse for in Fife towns:
Dunfermline.
Situated on Scotlandís East coast, Fife is a very rural area with three main towns of Dunfermline, Kirkaldy and Glenrothes. Online Fife pet shop called K9Active is based in the region and specialises in selling a great selection of products to help dogs and their owners get more active. Pets Pantry not only sells small animals like hamsters and gerbils but can also provide boarding services whilst the owners go on holiday.
The pets and their owners in the Fife region are well served with a terrific selection of other pet professionals such as breeders, animal sitters and walkers, dog and cat societies and plenty of vets to keep all the animals in top condition. Some Fife pet shops such as Kingdom Trophy Pet Foods sell a huge choice of pet food brands, and Serpentus Exotics can supply most of your reptile requirements.
POPULAR BUSINESSES
The Old Fire Station, Castle Road, Rosyth, KY11 2ED
01383 624127
56 High Street, Anstruther, Fife, KY10 3DH
01333 311890
1-2 Pentland Court, Saltire Centre, Glenrothes, KY6 2DA
01592 561991
137 Ballingry Road, Ballingry, Lochgelly, Fife, KY5 8PP
01592 861954
OTHER BUSINESSES
Ark Pet Services

27 Broom Grove, Dunfermline, Fife, KY11 8QZ
01383 724304
Dial a Dog Wash

42 Daviot Road, Dunfermline, Fife, KY12 7LY
01383 733158
Inglis Veterinary Hospital

120 Halbeith Road, Dunfermline, Fife, KY11 4LA
01383 722818
Kingdom Trophy Pet Foods

8 Lundin Cross, Crossford, Dunfermline, Fife, KY12 8PJ
01386 620649
Serpentus Exotics

57-59 Main Street, Townhill, Dunfermline, Fife, KY12 0EH
01383 620203