Brandesburton Cattery & Kennels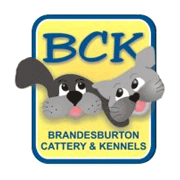 Address
Haywood Lodge, Catfoss Lane, Brandesburton, East Riding of Yorkshire, YO25 8EJ
Telephone
01964 544473
Contact
Send an email to Brandesburton Cattery & Kennels now >>
About
Based near Driffield in the East Riding of Yorkshire, BCK is a family run business with a large number of caring, highly trained staff. The premise is manned 24/7 with the owners and managers all living on site. The buildings are all brick built and centrally heated. The cattery lodges all have full height doors, accessible from inside building, allowing staff to sit with the cats for grooming and play sessions without letting cold breezes in, even in the middle of winter.
The cat lodges are equipped with shelves at varying heights, scratching posts and toys, to allow the cats to climb and play and exhibit all the natural behaviours they need to for physical and mental well-being. The majority of the lodges also have a cat flap leading to an outside run where they can sit and watch wildlife. In the kennels the dogs are exercised regularly in BCK's eight acre field. They are both walked on extendible leads around the field and also given off lead time in the secure runs.
All exercise is on a one-to-one basis, dogs from different households are not mixed. This allows the staff and dogs to bond, and enables staff to monitor closely the health of the residents. All pets must be vaccinated, and show current vaccination certificates on arrival, although the "kennel cough" vaccination is up to the owner. Viewings are welcome without appointment at this East Riding of Yorkshire boarding establishment, and clients are invited to just pop in during office hours.
Find Brandesburton Cattery & Kennels on these pages:

Location: East Riding of Yorkshire
Categories: Pet Boarding Homes