Yorkshire Pet Shops and Services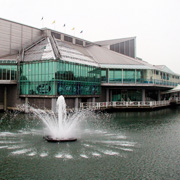 Narrow your results: browse for in East Riding of Yorkshire towns:
Hull.
Sometimes known simply as East Yorkshire, the East Riding of Yorkshire encompasses large cities like Hull, and smaller towns like Bridlington, Beverley, Goole, Driffield and Hornsea. All of these areas are well supplied with every type of service needed by a pet lover, whether you need a vet, dog breeder, pet sitter, grooming parlour or boarding kennels. East Riding of Yorkshire pet shops include Pets Paradise, Wise Pets and Pets & Gardens. They all sell small animals including hamsters, rabbits and guinea pigs, and will also have a good selection of pet toys and food.
Unfortunately every animal will need a vet at sometime or other in their life – Garth Veterinary Practise are experts at dealing with problems associated with small animals, and can also offer many different forms of pet insurance schemes. Grovehill Road Pet Food Supplies are experts in selling specialist pet food, whilst MJ Aquatics in Beverley sell everything a fish lover could need to set up and maintain a freshwater or tropical aquarium.
POPULAR BUSINESSES
Haywood Lodge, Catfoss Lane, Brandesburton, East Riding of Yorkshire, YO25 8EJ
01964 544473
Common Farm, Arglam Lane, Holme on Spalding Moor, York , YO43 4HF
0800 2300 266
2 Pearson Way, Clough Road, Hull, East Riding of Yorkshire, HU6 7QA
01482 444003
MyPamperedPup.com, Chamberlain Road, Hull, East Riding of Yorkshire, HU8 8AH
078443 573644
140 County Road South, Hull, East Riding of Yorkshire, HU5 5NA
01482 566862
Pets Pad, Snaith Road, Rawcliffe, Goole, East Riding of Yorkshire, DN14 9EU
01405 839996
OTHER BUSINESSES
4Pets

324 Hull Road, Woodmansey, Beverley, HU17 0RU
01482 882 192
Amazing Animal Accessories

347 Holderness Road, Hull, East Riding of Yorkshire, HU8 8RD
01482 226747
Cavalier King Charles & French Bulldog Breeders

66 Staithes Road, Hull, East Riding of Yorkshire, HU12 8TB
01482 899944
Chestnut House Veterinary Centre

Sutton Grange, Salthouse Road, Hull, East Riding of Yorkshire, HU8 9HL
01482 787366
Dogwise

Brooklands, Willitoft, Goole, DN14 7NY
01757 288208
Garth Veterinary Practise

Garth House, Straight Lane, Beeford, Driffield, YO25 8BE
01262 410520
Grovehill Road Pet Food Supplies

Unit B2, Low Works, Grovehill Road, Beverley, HU17 0JJ
01482 868696
Happy Hutch

144 English Street, Hull, East Riding of Yorkshire, HU3 2BT
01482 422202
Mac's Exotics

17 South Street, Hull, East Riding of Yorkshire, HU1 3QG
01482 211221
Pets & Gardens Ltd

53 Newbegin, Hornsea, HU18 1AB
01964 532 323
Pets Paradise

347 Holderness Road, Hull, HU8 8RD
01482 329 861
Reptile Land

437 Anlaby Road, Hull, East Riding of Yorkshire, HU3 6AP
01482 506668
Simpsons

30 Chapel Street, Bridlington, YO15 2DW
01262 672 206
Snakes & Dragons

25-27 Spring Bank, Hull, East Riding of Yorkshire, HU3 1AF
01482 212110
Watts Dog Grooming

410 Hessle Road, Hull, East Riding of Yorkshire, HU3 3SD
01482 215546
Winter Swan Veterinary Centre

Tranby Lane, Hull, East Riding of Yorkshire, HU14 3NG
01482 422213
Wise Pets

95 Middle Street South, Driffield, YO26 6QE
01377 241170