Dorset Dog Delights
(1 review)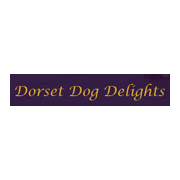 Address
6 Acres Road, Bournemouth, Dorset, BH11 8ST
Telephone
07544 330993
Contact
Send an email to Dorset Dog Delights now >>
About
Based in Bournemouth, Dorset Dog Delights is a pet bakery selling a selection of freshly baked healthy dog treats, with no salt, sugar or preservatives added to them. In addition to this there is a selection of Gluten-free treats for those dogs that need a special diet, and dried treats if you feed your dog raw.
The Dorset Dog Delights treats are baked fresh with every order and have a shelf life of four months. Most come in two sizes: the "Standard" treat is ideal for larger dogs, or if you just want to treat your best friend, the "Training" size is smaller treats that are perfect for rewarding when training. The only treat in just one size is the Grain-Free Dried Liver Brownie.
Made to a unique recipe, the ultimate training treat is used by many training schools in the country. All the packaging used by this pet food shop is biodegradable. This helps keep the paw-print down, and a proportion of sales are donated to a local dog rescue charity.
Find Dorset Dog Delights on these pages:

Location: Bournemouth
Categories: Pet Food