Bournemouth Pet Shops and Services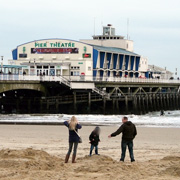 Bournemouth has quite a high proportion of pet lovers - and whether its cats, dogs, reptiles or other small animals, a large number of pet shops and other pet businesses serve the area well. Bournemouth's Reptiles Plus and The Reptilarium both cater for customers who have a popular fascination with snakes, reptiles, lizards or turtles as well as all the food and accessories they need.
Many other Bournemouth pet shops cater for less exotic species and several Bournemouth vets such as Aniwell Veterinary Clinic look after the pets with ailments that unfortunately crop up from time to time. Based in Bournemouth, Pet Supreme is an online based pet shop selling a wide selection of high quality pet products with a fast delivery service.
POPULAR BUSINESSES
6 Acres Road, Bournemouth, Dorset, BH11 8ST
07544 330993
Unit 63, 2 Lansdowne Crescent, Bournemouth, Dorset, BH1 1SA
0800 028 5244
OTHER BUSINESSES
Aniwell Veterinary Clinic

1504 Wimborne Road, Bournemouth, Dorset, BH11 9AD
01202 591208
Fiveways Pets

393 Charminster Road, Bournemouth, Dorset, BH8 9QT
01202 527920
Moordown Pet Supplies

886 Wimborne Road, Bournemouth, Dorset, BH9 2DR
01202 527488
PamPurred Pets

561 Wimborne Road, Winton, Bournemouth, Dorset, BH9 2AR
01202 547272
Reptiles Plus

95 Seabourne Road, Bournemouth, Dorset, BH5 2HF
01202 421117
The Reptilarium

519 Christchurch Road, Bournemouth, Dorset, BH1 4AG
01202 303337