Cumbria Pet Shops and Services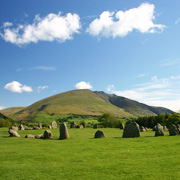 Narrow your results: browse for in Cumbria towns:
Carlisle.
Beautiful Cumbria, county home of The Lake District has a wide variety of pet professionals that offer their services to the thousands of pet owners in the region. They donít have to travel far to find a vet, breeder, dog trainer or a Cumbria pet shop that can offer everything they need.
Podgy Paws for example offers their customers a terrific selection of everything an owner could possible want for their dog, whilst other shops can supply small animals like hamsters, guinea pigs or rabbits. Exotic pets are very fashionable and several Cumbria pet shops offer snakes, lizards or spiders as part of a much bigger range.
POPULAR BUSINESSES
Durranhill Road, Carlisle, Cumbria, CA1 2SP
07743 594233
West Park, Unit 4, Crofton Estate, Near Thursby , Cumbria, CA5 6QR
01697 349852
55,Millholme Avenue, Currock, Carlisle, Cumbria, CA2 4DW
07594 312553
4-6 Tithebarn Street, Keswick, Cumbria, CA12 5ED
017687 73737
OTHER BUSINESSES
Becky's Cattery

4 Centurians Walk, Carlisle, Cumbria, CA3 0JL
01228 819654
Blendbetter Pet Foods

Westlinton, Carlisle, Cumbria, CA6 6AA
01228 665031
Border Reptiles

43 Wigton Road, Carlisle, Cumbria, CA2 7AX
01228 317872
Cumbria Dog Training

8 Whinfell Road, Bolton, Appleby-In-Westmorland, Cumbria, CA16 6AT
01768 361057
Denton Parrots

96 Denton Street, Carlisle, Cumbria, CA2 5EN
01228 510022
Eden Veterinary Centre

213 Kingstown Road, Carlisle, Cumbria, CA3 0BB
01228 541999
Eden Veterinary Clinic

213 Kingstown Road, Carlisle, Cumbria, CA3 0BB
01228 541999
Exotic Pets Cumbria

39 Wigton Road, Carlisle, Cumbria, CA2 7AX
01228 595873
New Shambles Pet Shop

3 New Shambles, Kendal, Cumbria, 01539 721649
One Stop Pet Shop

Unit 2, Adams Road, Derwent Howe, Workington, Cumbria, CA14 3YS
01900 63633
Paws & Claws

A, Viaduct Estate Road, Carlisle, Cumbria, CA2 5BN
01228 526464
Perfect Pooches

93 Blackwell Road, Carlisle, Cumbria, CA2 4EH
07969 563944
Pets Paradise

Market Hall, Duke Street, Barrow-In-Furness, Cumbria, LA14 1HU
01229 839926
Radmores Luxury Kennels

36 New Road, Carlisle, Cumbria, CA5 7LA
01228 583371
Ross-Lyne Boarding Kennels

Ross Cottage, Carlisle, Cumbria, CA6 6AW
01228 674530
Stonehouse Cattery

Stone House, Moorhouse, Carlisle, Cumbria, CA5 6HA
01228 583464
Watson's Pet Shop

23 Fisher Street, Workington, Cumbria, CA14 2EP
01900 603684