Carlisle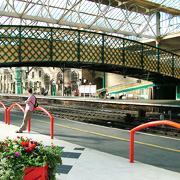 Situated only ten miles south of Scotland, the city of Carlisle is also Cumbria's county town. The modern Lanes Shopping Centre houses most of the multiple retailers seen in most city centres, with an excellent choice of independent smaller shops located nearby.
Pet owners are blessed with a good choice of shops and businesses that are specifically setup to look after their needs. Becky's Cattery or Radmores Luxury Kennels are just two examples of Carlisle's popular holiday homes for cats and dogs.
Sick animals usually need quick attention and the Eden Veterinary Clinic in Kingstown Road is one of many vets in the region that offers a walk-in service. Exotic pet owners usually head off to Border Reptiles in Wigton Road where they sell live food, as well as a selection of snakes, spiders and amphibians. Whilst All4Pet is based in Carlisle and can deliver locally, most of their business is based in online sales of a huge selection of pet food and other pet products.
POPULAR BUSINESSES
Durranhill Road, Carlisle, Cumbria, CA1 2SP
07743 594233
55,Millholme Avenue, Currock, Carlisle, Cumbria, CA2 4DW
07594 312553
OTHER BUSINESSES
Becky's Cattery

4 Centurians Walk, Carlisle, Cumbria, CA3 0JL
01228 819654
Border Reptiles

43 Wigton Road, Carlisle, Cumbria, CA2 7AX
01228 317872
Denton Parrots

96 Denton Street, Carlisle, Cumbria, CA2 5EN
01228 510022
Eden Veterinary Clinic

213 Kingstown Road, Carlisle, Cumbria, CA3 0BB
01228 541999
Paws & Claws

A, Viaduct Estate Road, Carlisle, Cumbria, CA2 5BN
01228 526464
Perfect Pooches

93 Blackwell Road, Carlisle, Cumbria, CA2 4EH
07969 563944
Radmores Luxury Kennels

36 New Road, Carlisle, Cumbria, CA5 7LA
01228 583371
Ross-Lyne Boarding Kennels

Ross Cottage, Carlisle, Cumbria, CA6 6AW
01228 674530