Belfast Pet Shops and Services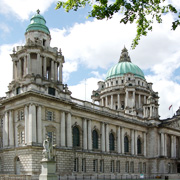 Lisburn Road seems to enjoy much of the limelight in terms of shopping locations in Belfast - and although there is a good little dog grooming parlour on Upper Lisburn Road called Pets 'n' Gardens Grooming, this area isn't really where you will find the majority of pet shops in Belfast.
Whilst various pet shops are scattered around the outskirts of the city, there is actually a good concentration centrally too. This includes Funky Pets in Ormeau Road, CV Aquatics on Shore Road and PETZ on North Street.
Fans of snakes and reptiles will natually head for City Reptiles on Hope Street which you can find out more about below. You won't struggle to find vets or other professional pet services in Belfast either. Cornerstone Veterinary Clinic in Castlereagh Road provides a wide range of services to most small pet animals, and they also have an emergency number for out of hours problems. Belfast also has a good selection of grooming parlours, kennels, catteries & boarding houses as well as pet breeders and trainers.
POPULAR BUSINESSES
4 Hope Street, Belfast, BT12 5EE
028 9058 0680
52 York Street, Belfast, County Antrim, BT15 1AS
07516 464843
OTHER BUSINESSES
Cornerstone Veterinary Clinic

289-291 Castlereagh Road, Belfast, County Antrim, BT5 6AA
028 9079 9977
CV Aquatics & Reptiles

210 Shore Road, Belfast, BT15 3QB
028 9037 0637
Funky Pets

260 Ormeau Road, Belfast, BT7 2FZ
028 9064 6190
Happy Pets

406 Woodstock Road, Belfast, BT6 9DQ
02890 450651
Pets at Home

Boucher Crescent, Belfast, BT12 6HU
028 9068 3286
Petz

20 North Street, Belfast, BT1 1LA
028 9032 4981
The Avenue Pet Shop

176 Albertbridge Road, Belfast, BT5 4GS
02890 455349