Aqua-tique Pet & Garden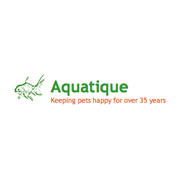 Address
16 Cross Street, Camborne, Cornwall, TR14 8EX
Telephone
01209 713924
Contact
Send an email to Aqua-tique Pet & Garden now >>
About
Established in 1970 and situated near the railway station in Camborne, Cornwall, Aqua-tique Pet & Garden is a family-owned, licensed pet shop with a large picture window facing onto the street.
All staff at the shop have Dutchy College qualifications in small animal and bird husbandry, and can advise customers in all areas of selecting and looking after pets. Aqua-tique Pet & Garden is a stockist of many different types of domestic animals. This includes rabbits, hamsters, gerbils, chincillas and many more. As well as the actual animals, this Camborne pet shop can also supply a whole range of associated equipment such as hutches, cages, pet food and bird seeds.
In addition to their impressive range of small animals, Aqua-tique Pet & Garden supplies a host of birds including budgies, canaries, lovebirds and parrots. Aviarys and aviary panels can also be bought here - and any out-of-stock items can usually be obtained within three days. Also worth looking out for are the cold water fish sold by Aqua-tique. If you're looking for fish food, tanks, pumps or ponds - this Camborne pet shop can help. They run a local delivery service and can drop-ship bird cages to anywhere in the UK.
Find Aqua-tique Pet & Garden on these pages:

Location: Cornwall
Categories: General Pet Shops