Cornwall Pet Shops and Services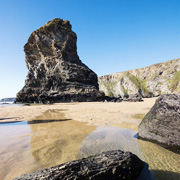 Whilst Cornwall is best known as a summer holiday destination with its long surfing beaches, the county also has a number of large towns. From Launceston in the East, to Penzance in the West, Cornwall has a generous smattering of pet shops and pet professionals scattered all over the county, with virtually every major town boasting a pet shop of some kind.
Aqua-tique in Camborne is the perfect example of the kind of good, all-round pet shop you will find in Cornwall. Others worth hunting out are Animal Kingdom in Falmouth, Fields Pet Centre in St Austell and Central Pet in Newquay. Oscar Pet Foods in Hayle supply food for a huge variety of pets like dogs, cats, hamsters, rabbits, guinea pigs and even chicken. In Penryn, Wings and Things is a great place to buy food and accessories for all your feathered friends. Find out more about these and other Cornish pet shops below.
POPULAR BUSINESSES
16 Cross Street, Camborne, Cornwall, TR14 8EX
01209 713924
Trewassick House, Newquay, Cornwall, TR8 4JR
01637 870826
45 Talmena Avenue, Wadebridge, Cornwall, PL27 7RP
07974 653747
Online Only, Cornwall,
07585 809500
[Online only], Truro
03332120152
OTHER BUSINESSES
Animal Kingdom

19 Pengarth Road, Falmouth, Cornwall, TR11 2TY‎
01326 319 241
Central Pets

8 Central Square, Newquay, Cornwall, TR7 1JH‎
01637 876 652
Doggies & Moggies

58 Fore Street, Redruth, Cornwall, TR15 2AF‎
01209 217 647
Fal Valley Pets

Fal Valley Tannery, Grampound, Truro, Cornwall, TR2 4RX‎
01726 883 988
Gills & Geckos

71 Clifden Road, St. Austell, Cornwall, PL25 4PB‎
01726 76076
Oscar Pet Foods

18 Horsepool Road, Connor Downs, Hayle, Cornwall, TR27 5DZ
07879 813627
Wings n Things

5 Broad Street, Penryn, Cornwall, TR10 8JL
01326 378034