Scribble Print Studio
No customer reviews yet. Be the first.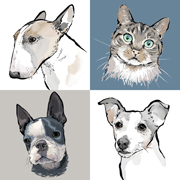 Address
31 York Avenue, Bristol, BS7 9LH
Telephone
07957 187044
Website
https:scribbleprintstudio.com
About
Martha is a professional artist specialising in pet portraits and dog breed art. She runs her business, Scribble Print Studio, from a studio in Bristol.
Martha loves to create portraits of your pets. She works in a few styles, so there should be something perfect for any home, interior or personality. If you like more minimal elegant simplicity then the watercolour style portraits may suit. On the other hand, the energetic linework in her full colour portraits offers something quite different.
The one thing she aims to achieve in her work is for the portraits to feel fresh and full of life and vitality, just like the beloved pets they depict. The artworks are created from your photographs and you can email as many as you like in order to find the perfect shot to create your portrait.
If you don't have great quality photos then don't worry as a wonderful portrait can often still be created in the watercolour style even when the photo doesn't show the sharpest detail. Portraits are available at different price points from gift level to more considered purchases.
Find Scribble Print Studio on these pages:

Location: Bristol
Categories: Artists & Photographers