Bristol Pet Shops and Services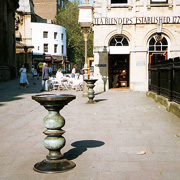 The residents of Bristol have never struggled to find a good selection of pet shops or other companies offering professional animal services. Whilst the usual Pets at Home stores loom large at the Brislington, Eastgate and Filton out-of-town shopping complexes, the real specialist advice can be gleaned from visiting any of Bristol's specialist independent pet shops that are scattered over the city.
South of the river, you can choose from stores like the family-run Ollys Pollys or the Diamond Pet Shop in Brislington. North of the river, you have several great pet shops on Gloucester Road including Roxfords and Roger's Pets. Slightly further afield you might like to try looking in places like Staple Hill, Patchway, Kingswood, Bedminster and Yate as these suberbs all boast a good selection of pet shops. Whether you're after birds, tropical fish, reptiles or dogs, you can be sure there will be a local Bristol pet shop that can help with your needs.
Similarly, there's a great selection of vets, grooming services, dog sitters and pet taxis that are all available for hire. Please contact us if you know of one that should be included here. Or better still, why not suggest they add their business to this directory for free?
FEATURED BUSINESSES

Professional artist specialising in pet portraits and dog breed art.
Read more about Scribble Print Studio >>
POPULAR BUSINESSES
147 Main Road, Cleeve, Bristol, BS49 4PW
Leigh Croft, 200 Westerleigh Road, Pucklechurch, Bristol, BS16 9PY
0117 937 4554
80 St Lukes Cresent, Bristol, BS3 4SA
07875 628912
B7-B8 Backfield Farm Business Park, Iron Acton, Bristol, BS37 9XD
01454 227171
18 Gloucester Road North, Bristol, BS7 0SF
0117 979 0082
4 Donald Road, Bristol, BS13 7DG
0845 1800639
5 High Street, Westbury on Trym, Bristol, BS9 3BY
07789 309766
249 Redcatch Road, Knowle, Bristol, BS4 2HQ
0117 9716832
Unit 1, Smiths Complex, Conneston Road, Patchway, Bristol, BS34 5PA
0117 9312577
OTHER BUSINESSES
Avon Aquatics

72-76 High Street, Staple Hill, Bristol, BS16 5HN
0117 932 7659
Diamond Pet and Tack Shop

100 Wick Road, Bristol, BS4
07907 481292
Farleys Pet Food & Garden Supplies

40 Broad Street, Staple Hill, Bristol, BS16 5NS
0117 956 6787
Greens

121 Regent Street, Kingswood, Bristol, BS15 8LJ
0117 967 3542
Jurassic Reps

507 Wells Road, Hengrove, Bristol, BS14 9AL
0117 9715 691
Keynsham Pet and Garden

5 Bath Hill, Keynsham, Bristol, BS31 1EB
0117 986 2366
Mr Bens Pet Supplies

Unit, 7-8 Brunel Court, Dean Road, Yate, Bristol, BS37 5PD
01454 325 253‎
Ollys Pollys

127 Saint John's Lane, Bristol, BS3 5AE
0117 977 7773
Pets at Home

4 Eastgate Office Centre, Bristol, BS5 6XX
0117 951 9155
Pets Paradise

30-31, St Nicholas Market, Bristol, BS1 1LA
0117 926 5179
Pets Plus

27A East Street, Bedminster, Bristol, BS3 4HH
0117 966 6706
Potty About Pets

Downend, Bristol, BS16 6AF
0117 970 8688
Roxfords Pet Shop

155 Gloucester Road, Bishopston, Bristol, BS7 8BA
0117 924 8397
The Fish Tank

187 Whitehall Road, Bristol, BS5 9BJ
0117 951 1771