Bedfordshire Pet Professionals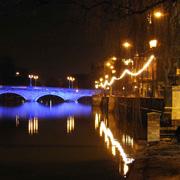 Narrow your results: browse for in Bedfordshire towns:
Bedford, Luton.
Whilst Luton and Bedford are the two municipalities with the highest number of residents in Bedfordshire, the county has many other large towns such as Leighton Buzzard and Dunstable. All of these areas have a great choice of pet businesses that support the county's large and varied pet population.
Aderley Dogs in Bedford and Perfect Petz & Polish in Arlesey both run dog walking businesses as well as offering their clients other pet services such as puppy sitting or feeding. Bedford Pet Cremations is one of the UKs few pet crematoriums. Established in 2007, the owners offer a sympathetic service to pet owners from a wide area of the county as well as further afield.
Vets, catteries, kennels, grooming parlours and general pet shops are found all over the county, most of which are run by business owners who know a thing or two about great customer service. The Milton Ernest Garden Centre in Bedford is home to the Waterways Pet and Aquatic Centre that has a good choice of aquariums, accessories and live fish. Plenty of useful advice is on hand for beginners too.
POPULAR BUSINESSES
22 Richmond Road, Bedford, Bedfordshire, MK40 3DG
01234 305956
Unit 83, Twinwoods Business Park, Thurleigh Road, Milton Ernest, Bedford, Bedfordshire, MK44 1FD
01234 363443
10 Lamb Meadow, Arlesey, Bedfordshire, SG15 6RY
07917 866840
53 Bilton Way, Luton, Bedfordshire, LU1 1UU
01582 842096
7a, The Grove, Woodside, Luton, Bedfordshire, LU1 4LR
07753 450286
OTHER BUSINESSES
Acorn House Veterinary Surgery

Linnet Way, Bedford, Bedfordshire, MK41 7HN
01234 863085
Beautys Pet Grooming

5 Oakcroft, Bedford, Bedfordshire, MK43 8SF
01234 824373
Bedford Country Pursuits

111 Castle Road, Bedford, Bedfordshire, MK40 3QX
01234 346648
Biscot Mill Veterinary Centre

324 Biscot Road, Luton, Bedfordshire, LU3 1AZ
01582 730105
Cat Hotel

859 Dunstable Road, Luton, Bedfordshire, LU4 0HR
01582 355668
Chalton Dog Grooming

15 Forge Close, Luton, Bedfordshire, LU4 9UT
01525 876208
Conifer Kennels & Cattery

The Causeway, Clophill, Bedford, Bedfordshire, MK45 4BA
01525 302957
Dovart Pet Supplies

Ossery Farm, Woburn Road, Bedford, Bedfordshire, MK45 2HY
01525 402796
Miss Mutts

109 Cambridge Street, Luton, Bedfordshire, LU1 3QT
07976 788996
Moggie and Pooch

PO Box 1281, Bedford, Bedfordshire, MK40 9BD
01234 355809
Paul's Pet & Garden Supplies

47 Bishopscote Road, Luton, Bedfordshire, LU3 1PA
01582 342624
Pets Best Friend

28 Icknield Way, Luton, Bedfordshire, LU3 2PA
07564 863845
Petzotix

139 Castle Road, Bedford, Bedfordshire, MK40 3RS
07787 190919
Rondetto Pet Supplies

The Old Fruit Farm, Station Road, Bedford, Bedfordshire, MK43 0XP
01525 280770
Slip End Pet Stores

Prebendal Farm, Grove Road, Luton, Bedfordshire, LU1 4DF
01582 725381
Waterways Pet and Aquatics

Milton Ernest Garden Centre, Radwell Road, Bedford, Bedfordshire, MK44 1SH
01234 823567