Bedford Pet Shops and Services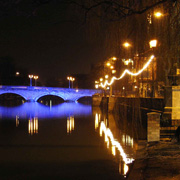 Whilst the Harpur Shopping Centre houses most of the most popular Bedford chain stores, an eclectic mix of multiple and independent shops are spread all over the town. Bedford pet owners are lucky to have such a great choice of pet shops and other pet related businesses on their doorstep.
When the sad time arrives and a best friend dies, Bedford Pet Cremations on Thurleigh Road offer a sympathetic and caring pet cremation service throughout the county.
There are many Bedford vets including Acorn House Veterinary Surgery in Linnet Way. Conifer Kennels & Cattery in Clophill will look after your pet pooch or moggie whilst you take a break away. Beautys Pet Grooming in Oakcroft are experts at keeping both dogs and cats looking in top condition, and Rondetto Pet Supplies can sell you a great choice of pet food and accessories. Alderley Dogs run a highly successful pet walking service alongside their boarding facilities and grooming business.
POPULAR BUSINESSES
22 Richmond Road, Bedford, Bedfordshire, MK40 3DG
01234 305956
Unit 83, Twinwoods Business Park, Thurleigh Road, Milton Ernest, Bedford, Bedfordshire, MK44 1FD
01234 363443
OTHER BUSINESSES
Acorn House Veterinary Surgery

Linnet Way, Bedford, Bedfordshire, MK41 7HN
01234 863085
Beautys Pet Grooming

5 Oakcroft, Bedford, Bedfordshire, MK43 8SF
01234 824373
Bedford Country Pursuits

111 Castle Road, Bedford, Bedfordshire, MK40 3QX
01234 346648
Conifer Kennels & Cattery

The Causeway, Clophill, Bedford, Bedfordshire, MK45 4BA
01525 302957
Dovart Pet Supplies

Ossery Farm, Woburn Road, Bedford, Bedfordshire, MK45 2HY
01525 402796
Moggie and Pooch

PO Box 1281, Bedford, Bedfordshire, MK40 9BD
01234 355809
Petzotix

139 Castle Road, Bedford, Bedfordshire, MK40 3RS
07787 190919
Rondetto Pet Supplies

The Old Fruit Farm, Station Road, Bedford, Bedfordshire, MK43 0XP
01525 280770
Waterways Pet and Aquatics

Milton Ernest Garden Centre, Radwell Road, Bedford, Bedfordshire, MK44 1SH
01234 823567