West Yorkshire Zoological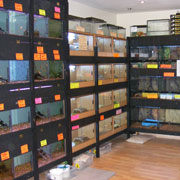 Address
Unit 1D Canten Mill Industrial Estate, Burnley Road, Lydgate, Todmorden, West Yorkshire, OL14 7DR
Telephone
01706 815709
Contact
Send an email to West Yorkshire Zoological now >>
About
Established in West Yorkshire as a company in August 2000, West Yorkshire Zoological has been supplying reptiles, amphibians, chelonia and invertebrates, together with related live food, frozen food and accessories since the early 1980s. Their customers include pet shops, collectors, Zoological Institutes and the public in the UK, Europe and USA.
The majority of the livestock they offer for sale has been captive bred either in the UK, Europe or the USA. They also have their own separate breeding facility housing various tortoise and dwarf monitor species including Pancake Tortoises and Mertens Water Monitors. In December 2009 they opened their present retail unit and are now additionally able to offer a range of tropical and coldwater fish, including Koi and other pond fish during the season.
If pet shops wish to deal with this West Yorkshire supplier, they do request prior sight of their current Pet Animals Act Licence.
Opening times are normally:
Wednesday, Thursday and Saturday 10:00 - 16:00
Friday 10:00 - 17.00
Sunday 10:00 - 14:00
Find West Yorkshire Zoological on these pages:

Location: West Yorkshire
Categories: Reptiles