Leeds Pet Professionals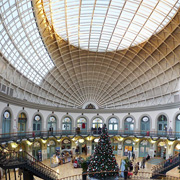 Whilst Leeds in West Yorkshire is an important regional centre for financial businesses, this large and sprawling city is also home to an extraordinary number of pet professionals – these include pet breeders, kennels, vets and pet grooming parlours, as well as a huge diversity of pet shops; between them all, they sell almost anything that a Leeds pet owner could want for their favourite animal.
A small selection of pet shops includes Tyrannosaurus Pets in Kirkstall Road, Smiths Pet Market in Kirkgate Market plus Dog and Bone in Dib Lane. KB Pets and Tropical Supplies is an exotic pet specialist centre, whilst Short Bark & Sides in Gledhow Valley Road can give your pooch an all important wash and brush up. Leeds vets like Aire Veterinary Centre keep all the animals as fit as possible, whilst the Vet Taxi business can ferry you there and back.
POPULAR BUSINESSES
41 Barkston House, Croydon Street, Leeds, West Yorkshire, LS11 9RT
01132 997788
Topcliffe Close, Capitol Park, Tingley, Leeds, West Yorkshire, WF3 1BU
0113 350 5073
Clifton Hill, Pudsey, Leeds, West Yorkshire, LS28 7EBb
0113 256 4686
OTHER BUSINESSES
Aire Veterinary Centre

177 Kirkstall Lane, Leeds, West Yorkshire, LS6 3EJ
0113 278 6072
Diamond Petz

27 Askey Avenue, Leeds, West Yorkshire, LS27 0EG
07951 450064
Dog & Bones

4 Dib Lane, Leeds, West Yorkshire, LS8 3DE
0113 265 3006
For The Love Of Cats And Dogs

21 Ibbetson Croft, Leeds, West Yorkshire, LS27 7UW
0113 210 9925
KB Pets & Tropical Supplies

4 Butt Lane, Leeds, West Yorkshire, LS13 4JE
0113 279 7328
Short Bark & Sides

121 Gledhow Valley Road, Leeds, West Yorkshire, LS7 4JU
07802 444484
Smiths Pet Market

22-24 Row, Kirkgate Market, Leeds, West Yorkshire, LS2 7JG
0113 244 2025
Tyrannosaurus Pets

380 Kirkstall Road, Leeds, West Yorkshire, LS4 2HQ
0113 289 9911
Vet Taxi

92 Winrose Approach, Leeds, West Yorkshire, LS10 3QG
07716 542222