Huddersfield Pet Professionals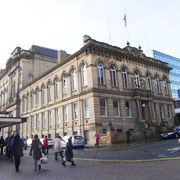 Huddersfield has a thriving town centre with numerous shopping locations to provide the inhabitants and visitors with a vast array of choice. This is true for pet shops as much as any other retail sector - as Huddersfield boasts more than its fair share of excellent independent pet and animal stores. Of course, high levels of pet ownership in the area also ensures that a greal deal of complementary businesses exist to cater for all your pet needs. Top pet wholesaler Bestpets have their base in Huddersfield as well as twenty 'cash and carry' warehouses throughout the UK.
Other Huddersfield pet businesses also include several dog walking companies, plenty of vets and even professionals that can provide alternative therapies such as dog massage or Bowen treatment. Huddersfield Pet Supplies in Queensgate Market Arcade offer their customers a terrific selection of pet food brands as well as an interesting assortment of collars, leads, bowls and other accessories. If you are looking for a bespoke dog kennel, try out The Pethouse Manufacturing Company in Brittania Road for a great choice.
POPULAR BUSINESSES
977 Leeds Road, Deighton, Huddersfield, West Yorkshire, HD2 1UP
01484 481150
12a Victoria Street, Marsden, Huddersfield, West Yorkshire, HD7 6DF
01484843111
22 Britannia Road, Milnsbridge, Huddersfield, West Yorkshire, HD3 4QB
01484 650304
OTHER BUSINESSES
Animate Pet Products

Leeds Road, 3 Ashley Industrial Estate, Huddersfield, HD2 1UR‎
01484 425 300
Dalton Pets

50B Long Lane, Huddersfield, HD59LH‎
01484 511 630
Huddersfield Pet Supplies

Queensgate Market Arcade, Unit 10, Princess Alexandra Walk, Huddersfield, HD1 2UJ
01484 428 336
The Mill Pet Shop

Unit 13a, Nortonthorpe Mills, Wakefield Road, Huddersfield, HD8 9LA‎
01484 861 810
The Pethouse Manufacturing Company

Unit 6, Britannia Road, Huddersfield, HD34QF‎
01484 643 599