Dudley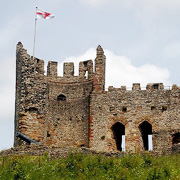 Situated in the West Midlands between Wolverhampton and Birmingham, Dudley is a large town with several important shopping areas including Town Gate Retail Park, Plaza Mall and The Churchill Shopping Centre. Whilst most pet businesses are located outside of these centres, they all perform an important service to pet owners and their animals. P A Stewart Veterinary Surgeons in Brooke Street is able to care for almost any small animal and perform complex operations if required.
Holiday time can be problematical for pet owners, although Woodfarm Boarding Kennels and Blackhills Cattery are on hand to look after pooches and moggies of almost any breed or size. If you need pet food or a new dog collar then Tedís Pet Supplies in Halesowen Road should be able help out. Although trading online only, Isle For Dog Boutique is based in Dudley and sends their gorgeous ranges of dog clothes to customers all over the UK.
FEATURED BUSINESSES

Sells dog clothes, dog collars, dog harnesses and other accessories.
Read more about Isle For Dog Boutique >>
OTHER BUSINESSES
Blackhills Cattery

Blackhills Cottage, Blackhills, Dudley, West Midlands, DY3 4PU
01902 240170
Dirty Dogs Self Service Dog Wash

258 Stourbridge Road, Dudley, West Midlands, DY1 2EE
01384 881898
P A Stewart Veterinary Surgeons

2 Brooke Street, Dudley, West Midlands, DY2 8RB
01384 881077
Pet Comforts

46 Darby End Road, Dudley, West Midlands, DY2 9JR
01384 349690
Ted's Pet Supplies

97-99 Halesowen Road, Dudley, West Midlands, DY2 9PY
01384 881527
Woodfarm Boarding Kennels

Woodfarm Cottage, Gospel End, Dudley, West Midlands, DY3 4HA
01902 675220