Stoke-on-Trent Pet Professionals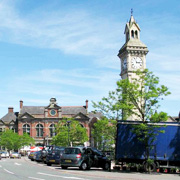 Stoke-on-Trent pet owners are spoilt for choice with a terrific selection of pet shops and other pet professionals that can cater for almost every animal need. If your pet dog needs some TLC and pampering you could try Precious Poochies for some great treatments, or try any one of dozens of Stoke-on-Trent vets for first class advice and animal care.
Pets Takeaway in Leek New Road isnít a petís fast food shop, but does supply a massive selection of pet food by many popular and premium brands. Stoke-on-Trent pet shops can not only sell you every pet accessory you could ever need, but somewhere like Jenuine Pets also sells a selection of live animals needing good homes. If exotic animals are your thing, try Enter The Dragon Reptile Centre in Carlisle Street. They are the specialists in this field, and can not only sell you live animals, cages and food, but also offer lots of free sound advice.
POPULAR BUSINESSES
254 Trentvalley Road, Oakhill, Stoke-on-Trent, Staffordshire, ST4 5LG
07535 030175
48a Kingsway, Stoke-on-Trent, Staffordshire, ST4 1JH
01782 815434
OTHER BUSINESSES
Doggy Day Care

53 Penstock Drive, Stoke-on-Trent, Staffordshire, ST4 7GF
07591 337673
Doolan Pet Supplies

258 London Road, Stoke-on-Trent, Staffordshire, ST4 5RH
01782 745186
Enter The Dragon Reptile Centre

12 Carlisle Street, Stoke-on-Trent, Staffordshire, ST3 4HL
07792 995749
Forster Street Pet Stores

Forster Street, Tunstall, Stoke-on-Trent, Staffordshire,
01782 838801
Hazel Blakeman Animal Clinic

627 Uttoxeter Road, Stoke-on-Trent, Staffordshire, ST3 5PZ
01782 320202
Pets Takeaway

880 Leek New Road, Baddley Green, Stoke-on-Trent, Staffordshire, ST2 7HL
01782 461528
Precious Poochies

314 Birches Head Road, Stoke-on-Trent, Staffordshire, ST1 6NA
01782 204860