Burton upon Trent Pet Shops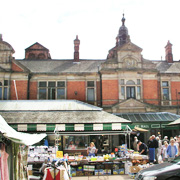 Located on the eastern boundary of Staffordshire, Burton upon Trent is often referred to as Burton on Trent by the local population. Most of the multiple stores are congregated in and around The Octagon shopping centre, with lots of independent retailers like Just for Pets located in the surrounding roads and streets. Kennelgate Pet Food Supplies in Derby Road is a popular place for pet owners looking for a good choice of dog, cat, hamster or guinea pig food.
If your pooch needs a bit of spruce up then a visit to The Grooming Parlour in Seymour Avenue could be the answer. If your animal is sick then a visit to one of the town's vets could be needed. Glenthorne Vets in Monk Street is just one of many alternatives. Foreign holidays usually mean a trip to the nearest kennels, with Daisy Brook Boarding Kennels in Woodland Road being a choice for many people.
POPULAR BUSINESSES
14 Hillcrest Avenue, Burton upon Trent, East Staffordshire, DE15 0TZ
01283 569400
OTHER BUSINESSES
Brabkley Cattery

Brankley Farm, Burton upon Trent, Staffordshire, DE13 8BN
01283 711525
Daisy Brook Boarding Kennels

2 Woodland Road, Burton upon Trent, Staffordshire, DE15 9TH
01283 480248
Glenthorne Vets

37 Monk Street, Burton upon Trent, Staffordshire,
01283 242421
Johnsons Pet & Gardens

68-69 Horninglow Road, Burton upon Trent, Staffordshire, DE14 2PR
01283 565057
Just for Pets

Unit 2 Saltwalk, Union Street, Burton upon Trent, Staffordshire, DE14 1AA
01283 511944
Kennelgate Pet Food Superstores

Derby Road, Burton upon Trent, Staffordshire, DE14 1RS
01283 510509
The Grooming Parlour

47 Seymour Avenue, Burton upon Trent, Staffordshire, DE14 2AQ
07806 649289