Sheffield Pet Professionals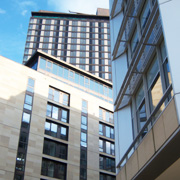 With nearly two thirds of the cityís space being green areas, thereís plenty of room for Sheffield dog owners to exercise their animals. Like most other large areas of population in the UK, a significant number of people own a pet of some sort, and there are an increasing number of pet shops and other pet professionals to service all their needs.
Barking Mad Pet Supplies in Banner Cross and Bradway Pet Shop are both good examples of general Sheffield pet shops that sell a wide range of pet related goods including food, treats, cages, leads and toys.
Peak Vets will help to keep all small pets in tip top condition, whilst Sheffield Pet Sitters can offer a varied range of pet sitting services. The Lizard Lounge is a great place if reptiles are your thing, and Sheffield Aquatics can offer their customers everything thatís needed to set up a freshwater or tropical fish aquarium.
Bright and Beautiful is a well established Sheffield pet shop specialising in a huge range of pet food for most animals. Sheffield Pet Sitters is popular with dog owners who are working all day. They will not only give the animal some exercise but also feed it if required.
POPULAR BUSINESSES
120 Elm Lane, Sheffield, South Yorkshire, S5 7TW
0114 2462242
Unit 23, 39-40 Alison Crescent, Sheffield, South Yorkshire, S2 1AS
0114 433 3063
OTHER BUSINESSES
Barking Mad Pet Supplies

918 Ecclesall Road, Banner Cross, Sheffield, South Yorkshire, S11 8TR
0114 266 2277
Bradway Pet Shop

180 Bradway Road, Sheffield, South Yorkshire, S17 4QX
0114 321 2612
Paws Here Pet Shop

14 Crookes Road, Sheffield, South Yorkshire, S10 5BB
0114 321 2932
Peak Vets

36 Olivet Road, Sheffield, South Yorkshire, S8 8QS
0114 250 7733
Porter Pets

366 Sharrow Vale Road, Sheffield, South Yorkshire, S11 8ZP
0114 266 2659
Sheffield Aquatics

326-328 Langsett Road, Sheffield, South Yorkshire, S6 2UF
0114 231 0225
Sheffield Pet Sitters

8 Blakeney Mews, Dinnington, Sheffield, South Yorkshire, S25 3QR
01909 517821
The Lizard Lounge

118 Holme Lane, Sheffield, Soutth Yorkshire, S6 4JW
0114 249 3454