Doncaster Pet Professionals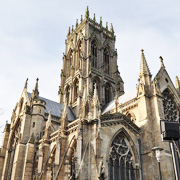 Like most towns and cities in the UK, Doncaster in South Yorkshire has a large proportion of pet lovers, and all of them are well catered for with a great selection of pet shops and pet professionals that can offer a wide variety of animals and services. Maybe your pet needs obedience classes or you just need someone to take your dog for a walk whilst you are work? Whatever your requirements, a pet business in Doncaster will be able to help.
SCL Aquatics is a specialist online fish accessory supplier, and Dales Pet Shop in Wormsworth Road sells a variety of small animals and pet food. Plenty of Doncaster vets can help to keep all types of pet in prime condition. These include Balby Veterinary Centre in Springwell Lane. They have great expertise in treating small animals for illnesses and accident injuries.
POPULAR BUSINESSES
80 Markham Road, Edlington, Doncaster, South Yorkshire, DN12 1DZ
01709 866809
30 The Birches, Westwoodside, Doncaster, South Yorkshire, DN9 2PH
01427 754262
OTHER BUSINESSES
Armthorpe Falcons

West Moor Lane, Armthorpe, Doncaster, South Yorkshire, DN3 3EA
07885 373092
Balby Veterinary Centre

83 Springwell Lane, Doncaster, South Yorkshire, DN4 9AD
01302 245682
Dales Pet Shop

94 Warmsworth Road, Doncaster, South Yorkshire, DN4 0RS
01302 859891
Holmewood Boarding

Newholme, Holme Wood Lane, Doncaster, South Yorkshire, DN3 3EH
01302 830507
Petology

18 Station Road, Bawtry, Doncaster, South Yorkshire, DN10 6PT
01302 215794
Sit Dog Training

20 Eastmoor Villas, Epworth Road, Haxey, Doncaster, South Yorkshire, DN9 2LH
07879 220715
The Grooming Parlour

2 Main Street, Doncaster, South Yorkshire, DN7 6PB
01302 846744