Barnsley Pet Professionals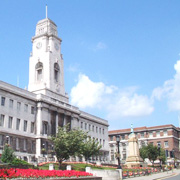 The former mining town of Barnsley has undergone much redevelopment, but there is still a thriving retail scene both in the main city centre and in out-of-town complexes. Luckily for the residents, several independent Barnsley pet shops remain - and these include Linda's Pet Supplies in Laithes Lane, The Pet Shop in Darton and Paws & Fins in Elsecar. Numerous veterinary practices are dotted around the town and a whole host of supporting animal services such as grooming, training and catteries are plentiful.
The Waggy Tails Store is located just outside Barnsley. They have a comprehensive website that sells many different pet accessories to customers around the UK, as well as a mobile trade stand that visits local fairs during the summer season. Animal Snap & Tack in Mappelwell specialises in regular pet food as well a good choice of food for wild animals and birds.
POPULAR BUSINESSES
Unit 11, Mapplewell Park, Wentworth Road, Mapplewell, Barnsley, South Yorkshire, S75 6DT
01226 388770
153 Barnsley Road, Wombwell, Barnsley, South Yorkshire, S73 8HH
07545 911696
Round Green Farm, Worsbrough, Barnsley, South Yorkshire, S71 5DR
0845 457 5945
OTHER BUSINESSES
Aqua Inn Ltd

11 Midland Street, Barnsley, South Yorkshire, S70 1SE
01226 445160
Linda's Pet Supplies

Laithes Lane, Barnsley, South Yorkshire, S71 3AA
01226 213107
Paws & Fins

23 Hill Street, Elsecar, Barnsley, S74 8EN‎
01226 351 133
Pet & Aquatic Centre

Aldham Bridge, Wombwell Lane, Wombwell, Barnsley, S73 8EP‎
01226 341 004
The Pet Shop

68 Church Street, Darton, Barnsley, S75 5HQ‎
01226 390 115
Tiggers

57 Upper Sheffield Road, Barnsley, South Yorkshire, S70 4PR
01226 321999