Bridgwater Pet Shops and Pet Professionals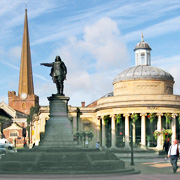 Bridgwater doesn't have an abundance of specialist pet shops, although the residents of this market town are very well served by Jollyes Pet Superstore which is based in a large retail park at The Clink, not far from the town centre. Whether you're after food, toys, accessories or cages, this store can be sure to help - and they offer products for all kinds of animals including rabbits, dogs, cats and hamsters. Elsewhere in the town, a specialist dog club has existed for many years called The Chinese Crested Dog Club.
Pawsability Dog Training in Wood Lane offers their customers a range of different classes to suit each individual animal problems or requirements such as puppy training. If it's accessories such as cages, collars or leads you require, Purewell Pet Supplies in Puriton probably have one of the best ranges in the region. When your doggie could do with a good wash, Clean Paws is a mobile Bridgewater dog grooming service that can make your pet dog smell sweet again.
POPULAR BUSINESSES
80 Ashleigh Avenue, Bridgwater, Somerset, TA6 6AX
01278 455935
OTHER BUSINESSES
Clean Paws

Edington Manor, Broadway, Bridgewater, Somerset, TA7 9JL
07502 401629
Jollyes

Gallagher Retail Park, The Clink, Bridgwater, TA6 4AB
01278 446626
Pawsability Dog Training

Wood Lane Farm, Wood Lane, Bridgwater, Somerset, TA7 9AB
01458 210794
Purewell Pet Supplies

15 Purewell, Puriton, Bridgwater, Somerset, TA6 4BH
01276 683406