Scottish Borders Pet Shops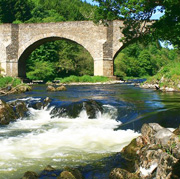 Covering a large area in southern Scotland, The Scottish Borders is home to several important towns such as Hawick, Kelso, Melrose, Peebles and Roxburgh. All of these towns have great shopping centres and a fair share of pet businesses that cater for the needs of the cat, dog and small animal population.
Tropical fish lovers head straight for Aquarian in Kelso for a superb selection of live fish plus all the food and accessories that go with this popular pastime. Fellside Kennels in Jedburgh is always busy at holiday time, although they sometimes have space for last minute bookings.
Sick animals are well treated at the Merlin Veterinary Group in Kelso, one of dozens of vets in the Scottish Borders. General pet shops selling a good range of merchandise include All Pets in Kelso, Paws & Claws in Jedburgh and Paws Parlour in Hawick. Customers who like to buy pet products online may like to check out the Family Pets website. This Lamancha based business can deliver products anywhere in the UK.
POPULAR BUSINESSES
Old School House, Old Moffat Road, Lamancha, EH46 7BD
07730 153070
OTHER BUSINESSES
All Pets

42 Woodmarket, Kelso, Scottish Borders, TD5 7AX
01573 225097
Aquarian

22 Roxburgh Street, Kelso, Scottish Borders, TD5 7DH
01573 225451
Fellside Kennels

Lethem Cottage, Jedburgh, Scottish Borders, TD8 6PS
01835 840311
Libby's Pet Shop

9 High Street, Hawick, Scottish Borders, TD9 9BZ
01450 377400
Merlin Veterinary Group

Edinburgh Road, Kelso, Scottish Borders, TD5 7EN
01573 224496
Paws & Claws

Lothian Road, Jedburgh, Scottish Borders, TD8 6LA
01835 862633
Paws Parlour

6a, Cross Wynd, Hawick, Scottish Borders, TD9 9EG
01450 374060