York Pet Shops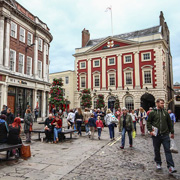 Possiblly best known as the UK's famous railway manufacturing centre, York has many other attractions. The sympathetically modernised shopping areas include the Coppergate Shopping Centre and Monks Cross Shopping Park, whilst tourists throng to the older Shambles area of the city.
Like all major population centres, York has a great choice of pet businesses including vets, grooming parlours, kennels, equine supplies and breeders. Foss Feeds in Copmanthorpe Lane has one of the best stocked pet feed shops in North Yorkshire. Catering for all sizes of pets from hamsters to horses they also stock most of the popular premium brands.
If you want to keep tropical fish, try Some Fin Fishy in Long Street for friendly advice as well as a great choice of live fish, aquariums and accessories. The Pet Insurance company is based in York. They offer online customers a choice of flexible insurance policies for cats and dogs.
POPULAR BUSINESSES
Thorpe Underwood Hall, Ouseburn, York, North Yorkshire, YO26 9SS
08449 809144
OTHER BUSINESSES
Aristocats Cattery & Grooming Parlour

Old Stable Cottage, Stillingfleet Road, York, North Yorkshire, YO61 6EB
01904 728781
Care Vets

49 Clarence Street, York, North Yorkshire, YO31 7EL
01904 654016
Derrings Kennels

New Derrings Farmhouse, York, North Yorkshire, YO61 3LW
01347 824202
Foss Feeds

Copmanthorpe Lane, York, North Yorkshire, YO23 2UG
01904 233675
Some Fin Fishy

144 Long Street, York, North Yorkshire, YO61 3JA
07960 807870
Toft Animal Supplies

Toft Lodge, Raskelf Road, York, North Yorkshire, YO61 3LA
01347 665035