Scarborough Pet Professionals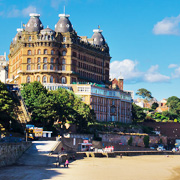 As the winner of an award for being the most "enterprising town in Britain", Scarborough has a town centre that is nearly as busy as its hugely popular coastline to which thousands of tourists flock to each year. Whilst the pedestrianised town centre (housing the Brunswick Shopping Centre) is home to the usual array of big-name stores, the animal lovers in Scarborough are lucky enough to have several independent pet shops to choose from - stores which provide so much character to the town.
As well as Chip n Dale pets in Victoria Road and Falsgrave Pet Shop located on Falsgrave Road, Scarborough is also home to Peter's Pet Shop. This store is located on St. Thomas Street and offers a very wide selection of small animals, birds, fish and accessories. Falsgrave Pet Shop is slightly smaller, but still has an excellent selection of pet food and accessories.
wanzdale Veterinary Care Centre in Scalby Road is devoted to just caring for small animals. They even run puppy socialisation classes and can offer acupuncture as an alternative to medication for certain conditions.
POPULAR BUSINESSES
13 St. Thomas Street, Scarborough, YO11 1DY
01723 364904
OTHER BUSINESSES
Chip-n-Dale Pets

110 Victoria Road, Scarborough, YO11 1SL‎
01723 500 753
Falsgrave Pet Shop

48 Falsgrave Road, Scarborough, North Yorkshire, YO12 5AX‎
07772 338 082
Swanzdale Veterinary Care Centre

99 Scalby Road, Scarborough, North Yorkshire, YO12 5QL
01723 331503