Harrogate Pet Professionals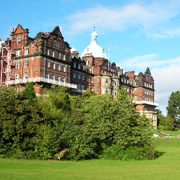 Well known as a spa town in North Yorkshire, Harrogate has large number of pet owners who rely on the various pet services that the town has to offer. Reptiles are very popular as pets, and The Creature Feature is a terrific reptile shop that sells an assortment of snakes, lizards, tortoises, turtles and spiders as well as all the food and cages needed to keep them in.
If you prefer fish keeping then the Cascade Garden and Aquatic Centre is a good place to start with a super selection of freshwater and tropical fish. Apart from Harrogate's pet shops, other pet related businesses include vets, pet artists, pet breeders and grooming parlours – everything a loving pet owner could need for their favourite animals. The Shamrock Veterinary Clinic in Knaresborough Road is just one of many vets in the town. They have a huge amount of experience in dealing with all small animal ailments, and also offer their clients a micro chipping service for their cats and dogs.
POPULAR BUSINESSES
Copthall Bridge House, Station Bridge, Harrogate, North Yorkshire, HG1 1SP
01423 790133
67D High Street, Starbeck, Harrogate, North Yorkshire, HG2 7LH
01423 885692
OTHER BUSINESSES
Cascade Garden & Aquatic Centre

Bishop Monkton, Harrogate, North Yorkshire, HG3 3QD
01765 534029
Pet Pad

22 High Street, Pately Bridge, Harrogate, North Yorkshire, HG3 5JU
01423 711944
Pooches Galore

112 Newby Crescent, Harrogate, North Yorkshire, HG3 2TT
07919 150223
Shamrock Veterinary Clinic

43 Knaresborough Road, Harrogate, North Yorkshire, HG2 7SR
01423 884074