Monmouthshire Pet Professionals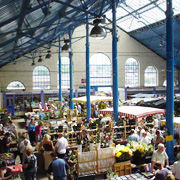 Located on the south east border of Wales, Monmouthshire is known as Sir Fynwy by the Welsh speaking people. Like most of the UKís populated areas, there are a high proportion of pet owners in the region who all need a wide range of pet services supplied by local professionals. Sadly most pets donít live as long as their owners, so the sympathetic team at Summerleaze Pet Crematorium near Magor are always on hand to help out at this difficult time.
On a brighter note, Caldicot Pet Supplies offer their customers a terrific selection of pet food and accessories, whilst Topz 'n' Tails also in Caldicot, is the perfect place for pet owners to take their dogs or cats for a bit of TLC. If fish are more your thing, then try Tsunami Aquatics in Chepstow for a great selection of aquariums, live fish and every possible accessory to go with them. Monmouthshire vets are always kept busy; Drybridge Veterinary Clinic in Monmouth is just one of many practises that can expertly treat a wide range of pet ailments.
FEATURED BUSINESSES

A beautiful pet crematorium offering a range of services throughout South Wales.
Read more about Summerleaze Pet Crematorium >>
OTHER BUSINESSES
Caldicot Pets Supplies

10 Newport Road, Caldicot, Monmouthshire, NP26 4HX
01291 425881
Drybridge Veterinary Clinic

2a Wonastow Road, Monmouth, Monmouthshire, NP25 5AH
01600 712206
Harlequin Pets

4 Riflemans Walk, Bank Street, Chepstow, Monmouthshire, NP16 5EN
01291 625460
Oaks Country Kennels

Hardwicke Farm, Five Lanes, Caldicot, Monmouthshire, NP26 5PH
01291 422780
Paws Pet Shop

7 The Oldway Centre, Monnow Street, Monmouth, Monmouthshire, NP25 3PS
01600 715367
Topz 'n' Tails

6 Railway Terrace, Caldicot, Monmouthshire, NP26 3JG
01291 425446
Tsunami Aquatics

Chepstow Garden Centre, Chepstow, Monmouthshire, NP16 6LF
01291 620720